KM.F., Statement' Disputed
31st March 1944
Page 20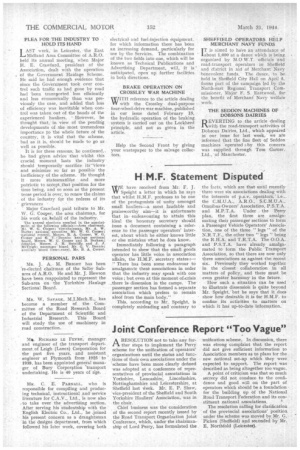 Page 20, 31st March 1944 —
KM.F., Statement' Disputed
Close
Keywords :
WSpeight a letter in which he says that whilst H.M.F. professes to be one of the protagonists of unity amongst small hauliers—.a most laudable and praiseworthy aim—it is unfortunate that inendeavouring to attain this ideal the honorary secretary should issue a document containing a reference to the passenger operators' interest, about which be either knows little or else mistakes what he does know.
Immediately following a paragraph intended to show that the small goods operator has little voice in association affairs, the H.M.F. secretary states:— " There has been some endeavour to amalgamate these associations in order that the industry may speak with one voice ; but even at this moment of.crisis ,there is dissension in the camps. The passenger section has formed a separate association which prefers to remain aloof from the main body."
This, according to Mr.. Speight, is completely misleading and ccintrary to E have received from Mr. F. J. the /acts, which are that until recently there were six associations dealing with the interests of p.s.v. operators, 'i.e.,, the C.M.U.A., A.R.O., S.C.M.U.A., Omnibus Owners' Association, P.S.T.A. and M.P.T.A. Under the Perry plan, the first three are amalgamating their passenger sections to form a Passenger Vehicle Operators' Association, one of the three "legs " of the N.R.T.F., the other two "legs " being the R.H.A. and T.R.T.A. The O.O.A. and P.S.T.A. have already amalgamated to form the Public Transport Association, so that there are now only three associations as against the recent six. Previously they worked together in the closest collaboration in all matters of policy, and there must be even greater harmony in the future.
How such a situation can -be used to illustrate dissensiOn is quite beyond Mr. Speight, but he says that it doesshow how desirable it is for H.M.F. to confine its activities to matters on which it has up-to-date information.