How Voluntary Pooling Saves Transport
31st March 1944
Page 19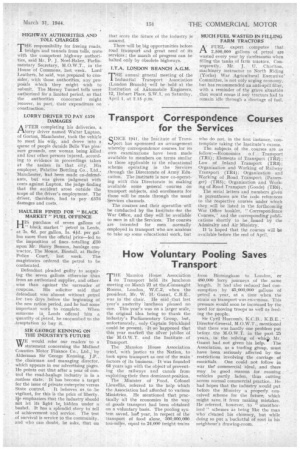 Page 19, 31st March 1944 —
How Voluntary Pooling Saves Transport
Close
THE Mansion House Association On Transport held its luncheon meeting on March 21 at the,COnnatight Rooms, London, W.C.2, when the president, Mr. W. II: Gaunt, C.B.E., was -the chair. He said that last year's austerity' luncheon pleased no one. This year's was on a larger scale, the original idea being to thank the industry's Parliamentary Group, but; unfortunately, only Captain Strickland could be present. .It so happened that this year marked the silver jubilee of. the M.O.W.T. and the Institute, of Transport.
The. _Mansion House Association tried, with justice to the Nation, to look upon transport as one of the main factors of its business. It was founded 64 years ago with the object of preventing the railways and canals from exploiting their then dominant position.
The Minister of Food, Colonel Llewellin, referred to the help which the Association had afforded to various Ministries. He mentioned that practically all the economies in the way of. goodS transport had been obtained on a Voluntary basis. The pooling system saved, last year, in respect of the transport of food alone, 300,000,000 ton-miles, equal to 24,000 freight trains from Birraingliam to Loudon, or 480,000 lorry jourueys of the same length. It had also red need' fuel consumption by 45,000,000 gallons Of petrol a year, at a time when the strain on transport was enormous. This pressure would soon be increased by the , need for moving troops as well as feeding the people.
Sir Cyril Hurcomb, K.C.B., K.B.E., Director-General, M.O.W.T., mentioned that there was hardly one problem put before the M.O.W.T. in the past '25 years, in the solving of whi4 Mr. Gaunt had not given his help.The Association, as a trading group, must have been 'seriously affected by the ' restrictions involving the carriage of essentials. One could not follow in war the' commercial ideal, and there may be good reasons for running . vehicles partly laden, thus cutting across normal commercial practice. Ho had hopes that the industry would put before the Ministry a properly conceived scheme for the future.; which might save it from making mistakes. He referred, however, to " unauthorized ". schemes as being like the man who cleaned his chimney, but while doing so put a bucketful of soot in his neighbour's drawing-room. . '