One Hears—
31st March 1944
Page 17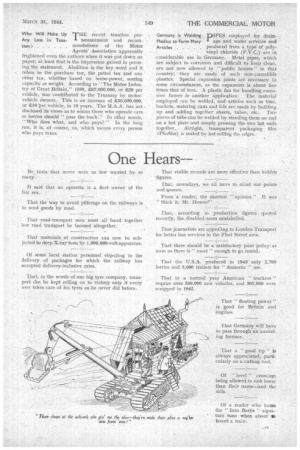 Page 17, 31st March 1944 —
One Hears—
Close
He_ taxis that never were so few wanted by so many.'
It said that an operetta is a fleet -Owner of the fair sex.
That the way to avoid pilferage on the railways is to send goods by road.
That road-transport men must all band together lest road transport be banned altogether.
That materials of construction can now be subjected to deep X-ray tests by 1,000,000-volt apparatus.
Of some local station personnel objecting to the delivery of packages for which the railway has accepted delivery-inclusive rates.
That, in the words of one big tyre company, transport 'an be kept rolling on to victory only if every user takes care of his tyres as he never did before. That visible records are more effective than hidden -figures.
That, nowadays, we all have to mind our points and queues.
From a reader, the shortest " opinion." It was " Stick it, Mr. Howes!"
That, according to production figures quoted recently, the. disabled seem mislabelled.
That journalists are appealing to London Transport for better bus services in the Fleet Street area.
That there should be a satisfactory joint policyas soon as there is,' meat" enough to go round,
That the U.S.A. produced in 1943 only 2,700 lorries and 5,600 trailers for " domestic " use.
That in a normal year American " truckers " require over 500,000 new vehicles, and 305,000 were scrapped in 1942.
That" floating power" is good for Britain and engines.
That Germany will have to pass through an annealing furnace.
That a "good tip" is always appreciated, particularly on a cutting tool.
Of " level " crossings, being allowed to sink lower than their name—and the rails.
Of a reader who hums the "Into Battle" signature tune when about Ira board a train.