Passing Comments
31st March 1944
Page 16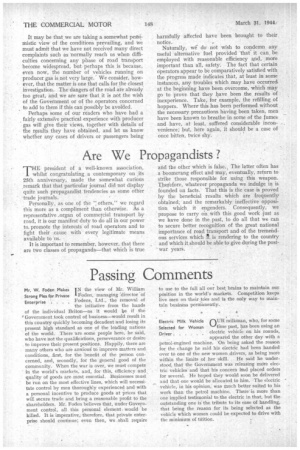 Page 17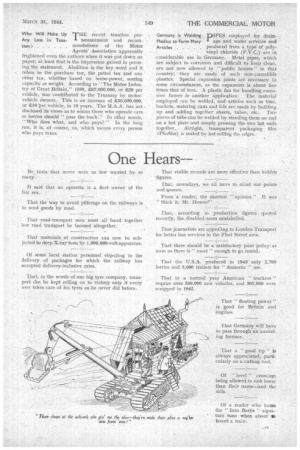 Page 16, 31st March 1944 —
Passing Comments
Close
Mr. W. Foden Makes IN the view of Mr. William Strong Plea for Private 1Foden, managing -director of Enterprise . . . Fodens, Ltd., the removal of the initiative from the hands of the individual Briton—as it would be if the 'Government took control of business—would result in this country quickly becoming decadent and losing its present high standard as one of the leading nations of the world. There are some people here, he said, who have not the qualifications, perseverance or desire to improve their present positions. Happily, there are many others who are anxious to improve matters and conditions, first, for the benefit of the person concerned, and, secondly, for the general good of the community. When the war is over, we must compete in the world's markets, and, for this, efficiency and quality of goods are most essential. Businesses must be run on the most effective lines, which will necessitate control by men thoroughly experienced and with a personal incentive to produce goods at -prices that will secure trade and bring a reasonable profit to the shareholders. Mr. Foden believes that, under Governmoat control, all this personal element would be killed. It is imperative, therefore, that private enterprise should continue; even then, we .shall require
to use to the full all our best brains to maintain our position in the world's markets. Competition keeps live men on their hies and is the only way to maintain business permanently.
Electric Milk Vehicle nUR milkman, who, for some
Selected for Woman time past, has been using an
Driver electric vehicle on his rounds, appeared the other day with a petrol-engined machine. 'On being asked the reason for the change he said his electric had been handed over to one of the new women drivers, as being more within the limits of her skill. He said he understood, that the Government was releasing more electric vehiclesand that his concern had placed orders for several. He hoped they would soon be delivered and that one would be allocated to him. The electric vehicle, in his opinion, was Much better suited to his work than the petrol• machine. There-is more than one implied testimonial to the electric in, that, but the outstanding one is' the tribute to its ease of handling, that being the reason for its being selected as the vehicle which women could be expected -to drive with the minimum of tuition.
Who Will Make Up HE recent taxation pro Any Loss i n Taxanouncement and recom tion . . mendations of the Motor
Agents' Association apparently frightened evert the authors when it was put down on paper; at least that is the impression gained in penning the statement. Abolition is the key word and it refers to the purchase tax, the petrol tax and any other tax, whether based on horse-power, seating capacity or weight. According to "The Motor Industry of Great Britain," 1933, 287;000,000, or 22a per vehicle, was contributed to the Treasury by motorvehicle owners. This is an increase of 250,000,000, or 210 per vehicle, in 10 years. The M.A.A. has not disclosed its views as to whom those who operate cars or lorries should "pass the buck." In other words, "Who does what, and who pays? " In the long run, it is, ,of course, us, which means every person who pays taxes.
Germany is Welding PIPES employed for drain
Plastics to Form Many age and water services and
Articles produced from a. type of poly
vinyl chloride .(P.V.C.) are in considerable use in Germany. Metal. pipes, which are subject to corrosion and difficult to keep cleans, are not now allowed in " public houses" in that country; they are made of such non-corrodible plastics. Special expansion joints are necessary in some circumstances, as the expansion is about five times that of iron. A plastic fan for handling corrosive fumes is, another application. The material employed can be welded, and articles such as bins, buckets, watering cans and lids are made by building up and adding together sheets, tubes, etc. Two pieces of tube can be welded by standing them on end on a hot plate and simply pressing the two hot ends together. Airtight, transparent packaging film Pliofilm) is sealed by hot-rolling the edges.