P ENVIRONM 7
31st July 2008
Page 9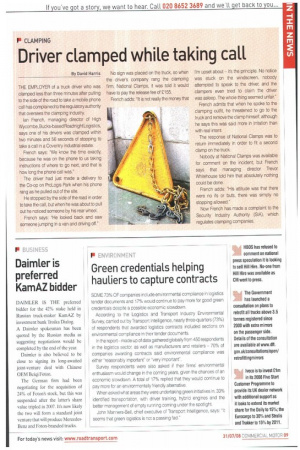 Page 9, 31st July 2008 —
P ENVIRONM 7
Close
Green credentials helping hauliers to capture contracts
SOME 73% OF companies include environmental compliance in logistics tender documents and 17% would continue to pay more for good green credentials despite a possible economic slowdown,
According to the Logistics and Transport Industry Environmental Survey, carried out by Transport intelligence, nearly three-quarters (73%) of respondents that awarded logistics contracts included sections on environmental compliance in their tender documents.
In the reportmade up of data gathered globally from 450 respondents in the logistics sector, as well as manufacturers and retailers 70% of companies awarding contracts said environmental compliance was either "reasonably important" or "very important".
Survey respondents were also asked if their firms' environmental enthusiasm would change in the coming years, given the chances of an economic slowdown. A total of 17% replied that they would continue to pay more for an environmentally friendly alternative.
When asked what areas they were undertaking green initiatives in, 33% identified transportation, with driver training, hybrid engines and the better management of empty running coming under the spotlight.
John Manners-Bell, chief executive of Transport Intelligence, says: "It seems that green logistics is not a passing fad."