EC WHOLE VEHICLE TYPE APPROVAL
31st July 2008
Page 42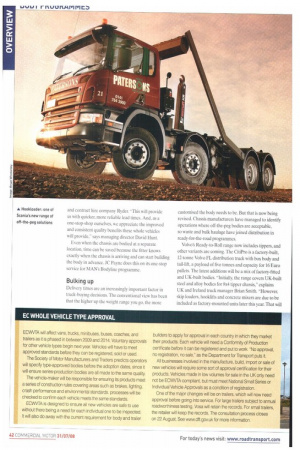 Page 42, 31st July 2008 —
EC WHOLE VEHICLE TYPE APPROVAL
Close
ECVVVTA will affect vans, trucks, minibuses, buses, coaches, and trailers as it is phased in between 2009 and 2014. Voluntary approvals for other vehicle types begin next year. Vehicles will have to meet approved standards before they can be registered, sold or used.
The Society of Motor Manufacturers and Traders predicts operators will specify type-approved bodies before the adoption dates, since it will ensure series-production bodies are all made to the same quality.
The vehicle-maker will be responsible for ensuring its products meet a series of construction rules covering areas such as brakes, lighting, crash performance and environmental standards. processes will be checked to confirm each vehicle meets the same standards.
ECVVVTA is designed to ensure all new vehicles are safe to use without there being a need for each individual one to be inspected. It will also do away with the current requirement for body and trailer
builders to apply for approval in each country in which they market their products. Each vehicle will need a Conformity of Production certificate before it can be registered and put to work. "No approval. no registration, no sale." as the Department for Transport puts it.
All businesses involved in the manufacture, build, import or sale of new vehicles will require some sort of approval certification for their products. Vehicles made in low volumes for sale in the UK only need not be ECVVVTA compliant, but must meet National Small Series or Individual Vehicle Approvals as a condition of registration.
One of the major changes will be on trailers, which will now need approval before going into service, For large trailers subject to annual roadworthiness testing, Vosa will retain the records. For small trailers, the retailer will keep the records. The consultation process closes on 22 August. See wwwdft.gov.uk for more information.