Colin Barnett
31st July 2008
Page 39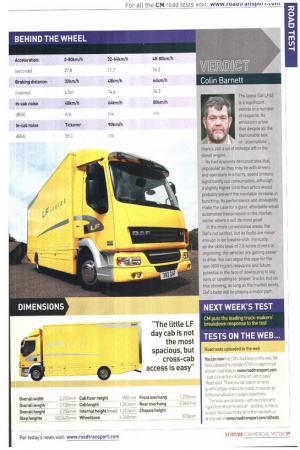 Page 39, 31st July 2008 —
Colin Barnett
Close
The latest Daf LF45 is a significant vehicle in a number of respects. fts emissions prove that despite all the fashionable talk of -alternatives'',
there's stilt a tot of mileage left in the diesel engine.
Its fuel economy demonstrates that, unpopular as they may be with drivers and operators in a hurry, speed limiters significantly cut consumption, although a slightly higher limit than artics would probably prevent the inevitable increase in bunching. Its performance and driveability make the case for a good, affordable small automated transmission in the market sector where it will do most good.
In the more conventional areas, the Oaf's not perfect, but its faults are minor enough to be liveable with. Ironically, as the skills level of 7.5-tonne drivers is improving, the vehicles are getting easier to drive. You can argue the case for the non-HGV truck's relevance and future potential in the face of downsizing to big vans or upsizing to 'proper' trucks, but on this showing, as long as the market exists, Dais baby will be playing a major part.