Lease of life
31st July 2008
Page 18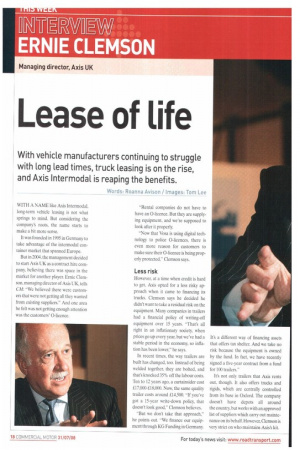 Page 19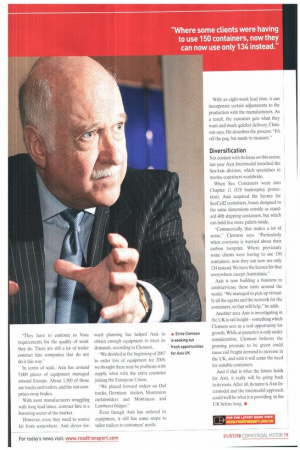 Page 18, 31st July 2008 —
Lease of life
Close
With vehicle manufacturers continuing to struggle with long lead times, truck leasing is on the rise, and Axis Intermodal is reaping the benefits.
Words: Roanna Avison / Images: Tom Lee WITH A NAME like Axis Intermodal, long-term vehicle leasing is not what springs to mind. But considering the company's roots, the name starts to make a bit more sense.
It was founded in 1995 in Germany to take advantage of the intermodal container market that spanned Europe.
But in 2004. the management decided to start Axis UK as a contract hire company, believing there was space in the market for another player. Ernie Clemson. managing director of Axis UK, tells CM: "We believed there were customers that were not getting all they wanted from existing suppliers." And one area he felt was not getting enough attention was the customers' 0-licence. "Rental companies do not have to have an 0-licence. But they are supplying equipment, and we're supposed to look after it properly.
"Now that Vosa is using digital technology to police 0-licences. there is even more reason for customers to make sure their 0-licence is being properly protected." Clemson says.
Less risk
However, at a time when credit is hard to get, Axis opted for a less risky approach when it came to financing its trucks. Clemson says he decided he didn't want to take a residual risk on the equipment. Many companies in trailers had a financial policy of writing-off equipment over 15 years. "That's all right in an inflationary society, when prices go up every year. but we've had a stable period in the economy, so inflation has been lower," he says.
In recent times, the way trailers are built has changed, too. Instead of being welded together, they are bolted, and that's knocked 35% off the labour costs. Ten to 12 years ago, a curtainsider cost £17.000-£18,000. Now, the same quality trailer costs around £14,500. "If you've got a 15-year write-down policy, that doesn't look good," Clemson believes.
"But we don't take that approach," he points out. "We finance our equipment through KG Funding in Germany. It's a different way of fmancing assets that offers tax shelter. And we take no risk because the equipment is owned by the fund. In fact, we have recently signed a five-year contract from a fund for 100 trailers."
It's not only trailers that Axis rents out, though. It also offers trucks and rigids, which are centrally controlled from its base in Oxford. The company doesn't have depots all around the country, but works with an approved list of suppliers which carry out maintenance on its behalf. However, Clemson is very strict on who maintains Axis's kit. -They have to conform to Vosa requirements for the quality of work they do. There are still a lot of trailer contract hire companies that do not do it this way."
In terms of scale. Axis has around 5,000 pieces of equipment managed around Europe. About 1.500 of those arc trucks and trailers, and the rest comprises swap bodies.
With most manufacturers struggling with long lead times. contract hire is a booming sector of the market.
However, even they need to source kit from somewhere. And clever for ward planning has helped Axis to obtain enough equipment to meet its demands, according to Clemson.
We decided at the beginning of 2007 to order lots of equipment for 2008: we thought there may be problems with supply, what with the extra countries joining the European Union.
"We placed forward orders on Daf trucks, Dennison trailers, Montracon curtainsiders and Montracon and Lamberet fridges."
Even though Axis has ordered its equipment. it still has some scope to tailor trailers to customers' needs. With an eight-week lead time, it can incorporate certain adjustments to the production with the manufacturers. As a result, the customer gets what they want and much quicker delivery. Clemson says. He describes the process: -It's off the peg, but made to measure."
Diversification Not content with its focus on this sector, last year Axis Intermodal launched the SeaAxis division, which specialises in marine containers worldwide.
When Sea Containers went into Chapter 11 (US bankruptcy protection). Axis acquired the licence for SeaCe112 containers, boxes designed to the same dimensions outside as standard 40ft shipping containers, but which can hold five more pallets inside.
-Commercially, that makes a lot of sense," Clemson says. "Particularly when everyone is worried about their carbon footprint. Where previously some clients were having to use 150 containers, now they can now use only 134 instead. We have the licence for that everywhere except Australasia."
Axis is now building a business to contract-lease these units around the world. -We managed to pick up virtually all the agents and the network for the containers, so that will help," he adds.
Another area Axis is investigating in the UK is rail freight something which Clemson sees as a real opportunity for growth. While at present it is only under consideration, Clemson believes the growing pressure to be green could cause rail freight demand to increase in the UK, and with it will come the need for suitable containers.
And if that is what the future holds for Axis, it really will be going back to its roots. After all, its name is Axis Intermodal and the intermodal approach could well be what it is providing in the UK before long. •