Wrong kind of clean
31st July 2008
Page 10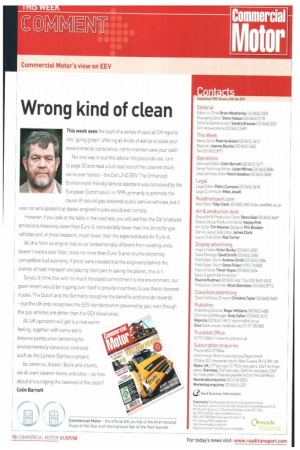 Page 10, 31st July 2008 —
Wrong kind of clean
Close
This week sees the start of a series of special CM reports into 'going green', offering all kinds of advice to salve your environmental conscience, not to mention save your cash.
For one way to put this advice into practical use, turn to page 32 and read a full road test of the cleanest truck we've ever tested the Oaf LF45 EEV. The Enhanced Environment-friendly Vehicle standard was conceived by the European Commission in 1999, primarily to promote the cause of natural gas-powered public service vehicles, but it was not anticipated that diesel-engined trucks would ever comply.
However, if you look at the table in the road test, you will see that the Daf produces emissions massively lower than Euro-5, considerably lower than the limits for gas vehicles and, in most respects, much lower than the expected levels for Euro-6.
All this from an engine that is not fundamentally different from existing units, doesn't need a soot filter, costs no more than Euro-5 and returns extremely competitive fuel economy. If proof were needed that the engineers behind the scenes of road transport are playing their part in saving the planet, this is it.
So you'd think that with its much heralded commitment to the environment, our government would be tripping over itself to provide incentives to use these cleanest trucks. The Dutch and the Germans recognise the benefits and provide rewards but the UK only recognises the EEV standard when powered by gas, even though the gas vehicles are dirtier than the EEV diesel ones.
All UK operators will get is a nice warm feeling, together with some extra brownie points when tendering for environmentally conscious contracts such as the London Olympics project.
So come on, Alistair, Boris and chums, we all want cleaner towns and cities so how about encouraging the cleanest of the clean? CoLin Barnett