Q Will you please advise on the legal
31st July 1970
Page 57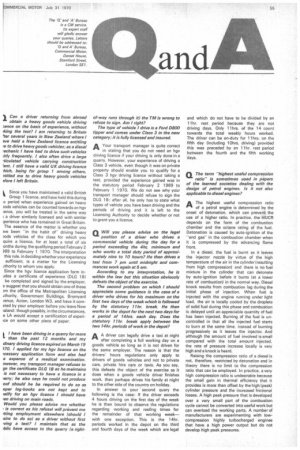 Page 57, 31st July 1970 —
Q Will you please advise on the legal
Close
position of a driver who drives a commercial vehicle during the day for a period exceeding the 4/sr. minimum and who works a total duty period of approximately nine to 10 hours? He then drives a taxi from 7 pm until midnight and commences work again at 5 am.
According to my interpretation, he is within the law but this situation obviously defeats the object of the exercise.
The second problem on which I should appreciate some guidance is the case of a driver who drives for his maximum on the first two days of the week which is followed by the statutory 11hr. break. He then works in the depot for the next two days for a period of 14hrs, each day. Does the statutory 11hr. break apply between the two 14hr. periods of work in the depot?
AA driver can legally drive a taxi at night
after completing a full working day on a goods vehicle so long as it is not driven for the same employer. The reason is that the drivers' hours regulations only apply to drivers of goods vehicles and not to private cars, private hire cars or taxis. As you say, this defeats the object of the exercise as it does when a goods vehicle driver finishes work, then perhaps drives his family at night to the other side of the country on holiday.
In answer to your second query the following is the case: If the driver exceeds 4 hours driving on the first day of the week he is then bound to observe the regulations regarding working and resting times for the remainder of that working week— with one exception. This is the 14hr. periods worked in the depot on the third and fourth days of the week which are legal
and which do not have to be divided by an 11 hr. rest period because they are not driving days. Only 11hrs. of the 14 count towards the total weekly hours worked. The driver can be on-duty for 11hrs. on the fifth day (including 10hrs. driving) provided this was preceded by an 11 hr. rest period between the fourth and the fifth working days.