Can a driver returning from abroad
31st July 1970
Page 57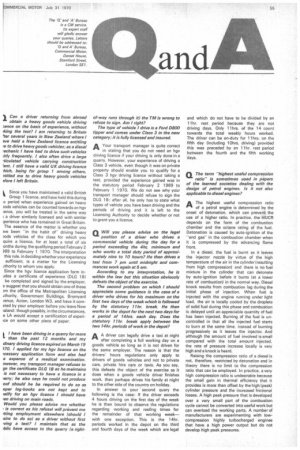 Page 57, 31st July 1970 —
Can a driver returning from abroad
Close
obtain a heavy goods vehicle driving ence on the basis of experience, without ;king the test? I am returning to Britain fter several years in New Zealand where I eve held a New Zealand licence entitling re to drive heavy goods vehicles; as a diesel rechanic I have had to drive such vehicles tidy frequently. I also often drive a large -ticulated vehicle carrying construction rant. still have a valid UK driving licence hich, being for group 1 among others, flitted me to drive heavy goods vehicles ?fore I left Britain.
L Since you have maintained a valid British s Group 1 licence, and have held this during e period when experience gained on heavy )ods vehicles can be counted towards an hgv :ence, you will be treated in the same way ; a driver similarly licensed and with similar :perience who has remained in Great Britain. The essence of the matter is whether you me been in the habit of" driving heavy )ods vehicles of the class for which you quire a licence, for at least a total of six onths during the qualifying period February 2 )69 to February 1 1970. The interpretation this rule, in deciding whether your experience sufficient, is a matter for the Licensing
J thority to whom you apply.
Since the hgv licence application form inudes a certificate of experience (DLG 1B) be completed and signed by the employer, e suggest that you should obtain one of these )m the office of the Metropolitan Licensing Jthority, Government Buildings, Bromyard renue, Acton, London W3, and have it corneted by your employer before you leave New raland : though possibly, in the circumstances,
e LA would accept a certification of experiice on some other piece of paper.