/ have been driving in a quarry for more 6
31st July 1970
Page 57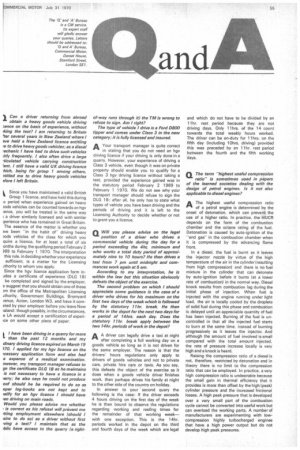 Page 57, 31st July 1970 —
/ have been driving in a quarry for more 6
Close
than the past 12 months and my dinary driving licence expired on March 19 ?70. I applied for my hgv licence on the ?cessary application form and also had
e expense of a medical examination. owever, my transport manager refuses to on the certificate DLO 1B as he maintains is not necessary to have a licence in a rarry; he also says he could not produce oof should he be required to do so as oper log-books are not kept and to ralify for an hgv licence I should have ow; driving on main roads.
Would you please advise me whether is correct as his refusal will prevent me wing employment elsewhere (should I !sire to do so) as a driver without first ■ ving a test? I maintain that as the thlic have access to the quarry (a right of-way runs through it) the TM is wrong to refuse to sign. Am I right?
The type of vehicle drive is a Ford 0800 tipper and comes under Class 3 in the new category; it is fully licensed and insured.
AYour transport manager is quite correct
in stating that you do not need an hgv driving licence if your driving is only done in a quarry. However, your experience of driving a Class 3 vehicle, even though it was on private property should enable you to qualify for a Class 3 hgv driving licence without taking a test, provided the experience gained was in the statutory period February 2 1969 to February 1 1970. We do not see why your transport manager should refuse to sign the DLG 19: after all, he only has to state what types of vehicle you have been driving and the periods of driving and it is left to the Licensing Authority to decide whether or not to grant you a licence.