Ird's eye view
31st July 1970
Page 49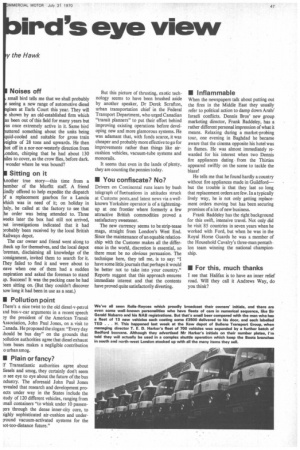 Page 49, 31st July 1970 —
Ird's eye view
Close
y the Hawk Noises off
small bird tells me that we shall probably seeing a new range of automotive diesel gines at Earls Court this year. They will shown by an old-established firm which as been out of this field for many years but as once extremely active in it. Same bird uttered something about the units being quid-cooled and suitable for gross train eights of 28 tons and upwards. He then ot off in a nor-nor-westerly direction from ondon, chirping that he had about 130 es to cover, as the crow flies, before dark. wonder where he was bound?
Sitting on it
nother true story—this time from a ember of the Murfitt staff. A friend "ndly offered to help expedite the dispatch f a replacement gearbox for a Lancia hich was in need of it; on holiday in taly, he called at the factory to see that he order was being attended to. Three eeks later the box had still not arrived, but investigations indicated that it had 3robably been received by the local British R.ailways depot.
The car owner and friend went along to -.•.heck up for themselves, and the local depot 'oreman, disclaiming all knowledge of the onsignment, invited them to search for it. They failed to find it and were about to eave when one of them had a sudden nspiration and asked the foreman to stand ap. Success! It was the packing case he had 3een sitting on. (But they couldn't discover low long it had been in use as a seat.) • Pollution point There's a nice twist to the old diesel-v-petrol irid bus-v-car arguments in a recent speech Py the president of the American Transit kssociation, John Paul Jones, on a.visit to anada. He proposed the slogan: "Every day ;hould be bus day" on the grounds that pollution authorities agree that diesel exhaust 'rom buses makes a negligible contribution o urban smog.
• Plain or fancy?
if Transatlantic authorities agree about iiesels and smog, they certainly don't seem .o see eye to eye about the future of the bus ndustry. The aforesaid John Paul Jones -evealed that research and development proects under way in the States include the ;tudy of 120 different vehicles, ranging from mall containers "to whisk under 10 passenters through the dense inner-city core, to lighly sophisticated air-cushion and under;round vacuum-activated systems for the lot-too-distance future."
But this picture of thrusting, exotic technology seems to have been brushed aside by another speaker, Dr Derek Scrafton, urban transportation chief in the Federal Transport Department, who urged Canadian "transit planners" to put their effort behind improving existing operations before developing new and more glamorous systems. He was adamant that, with funds scarce, it was cheaper and probably more effective to go for improvements rather than things like aircushion vehicles, vacuum-tube systems and monorails.
It seems that even in the lands of plenty, they are counting the pennies today.
• You confiscate? No?
Drivers on Continental runs learn by bush telegraph of fluvtuations in attitudes struck at Customs posts,and latest news via a wellknown Yorkshire operator is of a tighteningup at one frontier where formerly a few attractive British commodities proved a satisfactory sweetener.
The new currency seems to be strip-tease mags, straight from London's West End. Since the maintenance of an equable relationship with the Customs makes all the difference in the world, discretion is essential, so there must be no obvious persuasion. The technique here, they tell me, is to say: "I have some little journals that perhaps it would be better not to take into your country." Reports suggest that this approach ensures immediate interest and that the contents have proved quite satisfactorily diverting.
• Inflammable
When the newspapers talk about putting out the fires in the Middle East they usually refer to political action to damp down Arab/ Israeli conflicts. Dennis Bros' new group marketing director, Frank Baddeley, has a rather different personal impression of what it means. Relaxing during a market-probing tour, one evening in Baghdad he became aware that the cinema opposite his hotel was in flames. He was almost immediately rewarded for his interest when two Dennis fire appliances dating • from the Thirties appeared swiftly on the scene to tackle the blaze!
He tells me that he found hardly a country without fire appliances made in Guildford— but the trouble is that they last so long that replacement orders are few. In a typically lively way, he is not only getting replacement orders moving but has been securing promises of a lot of new business.
Frank Baddeley has the right background for this swift, intensive travel. Not only did he visit 85 countries in seven years when he worked with Ford, but when he was in the Royal Horse Guards he was a member of the Household Cavalry's three-man pentathlon team winning the national championship.
• For this, much thanks
I see that Halifax is to have an inner relief road. Will they call it Andrews Way, do you think?