Something special
31st July 1970
Page 40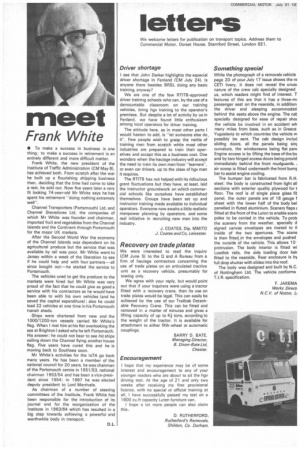 Page 40, 31st July 1970 —
Something special
Close
While the photograph of a removals vehicle page 20 of your July 17 issue shows the nt CETI livery, it does not reveal the unust nature of the crew cab specially designed us, which readers might find of interest. T features of this are that it has a three-me passenger seat on the nearside, in addition the driver and sleeping accommodati behind the seats above the engine. The cat specially designed for ease of repair shot the vehicle be involved in an accident wh many miles from base, such as in Greece Yugoslavia to which countries the vehicle m possibly be sent. The cab design inclue slicffng doors, all the panels being sin5 curvature, the windscreens being flat pan( Engine access is by lifting the base of the bu and by two hinged access doors being provid immediately behind the front mudguards. , air scoop is fitted underneath the front bumr bar to assist engine cooling.
The bumper bar is fabricated from R.H.
steel: the body is constructed from light all sections with exterior quality plywood for t floor. The roof is of single piece glass fit panel, the outer panels are of 18 gauge f sheet with the lower half of the body bei panelled in fluted aluminium. Scenery flaps E fitted at the front of the Luton to enable scent poles to be carried in the vehicle. To prott the scenery from the weather, specially d signed canvas envelopes are riveted to ti inside of the two apertures. The scene is then fitted in the envelopes and pushed the outside of the vehicle. This allows 10 protrusion. The body interior is fitted wi Loadlok rails, the side loading door belt fitted to the nearside. Rear enclosure is by full drop shutter with slides into the roof.
The body was designed and built by N.C. of Nottingham Ltd. The vehicle conforms T.I.R. specification.
F. JAKEMA Works Direct, N.C.V. of Nottm.