meet
31st July 1970
Page 40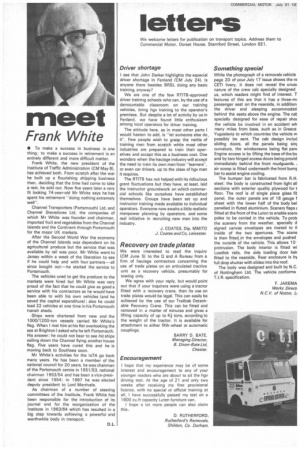 Page 40, 31st July 1970 —
meet
Close
Frank White
• To make a success in business is one thing; to make a success in retirement is an entirely different and more difficult matter.
Frank White, the new president of the Institute of Traffic Administration (CM May 8),
has achieved both. From scratch after the war he built up a flourishing shipping business then, deciding that the time had come to take a rest, he sold out. Now five years later a very fit looking 74-year-old Mr White says he has spent his retirement "doing nothing extremely well-.
Channel Transporters (Portsmouth) Ltd. and Channel Stevedores Ltd, the companies of which Mr White was founder and chairman, imported fruit and vegetables from the Channel Islands and the Continent through Portsmouth for the major UK markets.
After the Second World War the economy of the Channel Islands was dependent on its agricultural produce but the service that was available by rail was poor. Mr White went to Jersey within a week of the liberation to see if he could help and with four partners—all since bought out—he started the service to Portsmouth.
The vehicles used to get the produce to the markets were hired but Mr White was very proud of the fact that he could give as good a service with his contractors as he would have been able to with his own vehicles (and he saved the capital expenditure): also he could load 22 vehicles at one time in his Portsmouth transit sheds.
-Ships were chartered from new and the 1000/1200-ton vessels carried Mr White's flag. When I met him at his flat overlooking the sea at Brighton I asked why he left Portsmouth. His answer: he could not bear to see his ships sailing down the Channel flying another house flag. Five years have cured this and he is moving back to Southsea soon.
Mr White's activities for the loTA go back many years. He has been a member of the national council for 20 years, he was chairman of the Portsmouth centre in 1951/53, national chairman 1953/54 and has been a vice-president since 1954; in 1967 he was elected deputy president to Lord Merrivale.
As chairman of a number of steering committees of the Institute, Frank White has been responsible for the introduction of its journal and for the reorganization of the Institute in 1963/64 which has resulted in a big step towards achieving a powerful and worthwhile body in transport.
D. L.