Driver shortage
31st July 1970
Page 40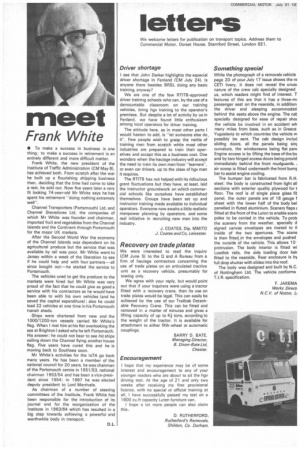 Page 40, 31st July 1970 —
Driver shortage
Close
I see that John Darker highlights the especial driver shortage in Fenland (CM July 24). Is anyone there besides BRSL doing any basic training, anyway?
We are one of the few RTITB-approved driver training schools who can, by the use of a demountable classroom on our training vehicles, bring hgv training to the operator's premises. But despite a lot of activity by us in Fenland, we have found little enthusiasm among local operators for driver training.
The attitude here, as in most other parts I would hasten to add, is "let someone else do.
it-. Few people wish to grasp the nettle of training men from scratch while most other industries are prepared to train their operatives and accept this as a business cost. One wonders when the haulage industry will accept the need to train its own men from "learners-, or even car drivers, up to the class of hgv man it requires.
The RTITB has not helped with its ridiculous grant fluctuations but they have, at least, laid the instructor groundwork on which commercial schools like ourselves have established themselves. Groups have been set up and instructor training made available to individual operators. Everyone now awaits a little realistic manpower planning by operators, and some real initiative in recruiting new men into the industry.
J. COATES, Dip. MMITO J. Coates and Co, Leicester.