Cummins ReCon scheme extended
31st July 1970
Page 34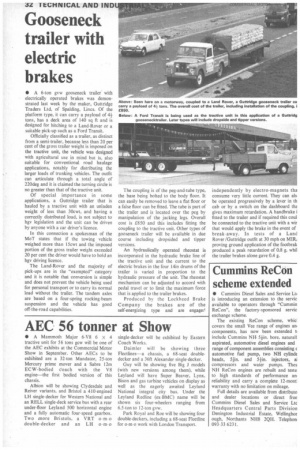 Page 34, 31st July 1970 —
Cummins ReCon scheme extended
Close
• Cummins Diesel Sales and Service Lt■ is introducing an extension to the servic available to operators through "Cummin ReCon", the factory-sponsored servic exchange scheme.
The existing ReCon scheme, whic covers the small Vee range of engines an components, has now been extended ti include Cummins NH54-in. bore, naturall aspirated, automotive diesel engines and range of component assemblies consisting c automotive fuel pump, two NH cylinde heads, 51in. and 5iin. injectors, ai compressors and water pumps. Thes NH ReCon engines are rebuilt and teste to high standards of performance an reliability and carry a complete 12-mont warranty with no limitation on mileage.
Full details are available from distributo and dealer locations or direct fror Cummins Diesel Sales and Service Ltc Headquarters Central Parts Division Denington Industrial Estate, Wellingbor ough, Northants NH8 2Q11. Telephon 093-33 6231.