Threat to BR from Leics co-op group
31st July 1970
Page 32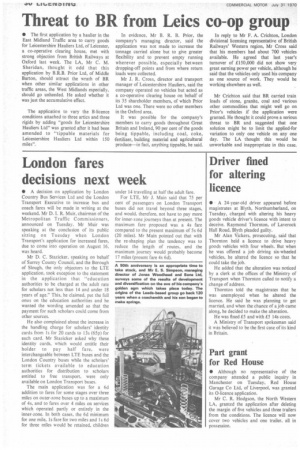 Page 32, 31st July 1970 —
Threat to BR from Leics co-op group
Close
• The first application by a haulier in the East Midland Traffic area to carry goods for Leicestershire Hauliers Ltd, of Leicester, a co-operative clearing house, met with strong objection from British Railways at Oxford last week. The LA, Mr C. M. Sheridan, thought it odd that this application by B.R.B. Prior Ltd, of Middle Barton, should attract the wrath of BR when other similar applications in other traffic areas, the West Midlands especially, should go unheeded. He asked whether it was just the accumulative effect.
The application to vary the B-licence conditions attached to three artics and three rigids by adding "goods for Leicestershire Hauliers Ltd" was granted after it had been amended to "tippable materials for Leicestershire Hauliers Ltd within 150 miles". In evidence, Mr B. R. B. Prior, the company's managing director, said the application was not made to increase the tonnage carried alone but to give greater flexibility and to prevent empty running wherever possible, especially between dropping-off points and from where return loads were collected.
Mr J. R. Cross, director and transport manager of Leicestershire Hauliers, said the company operated no vehicles but acted as a co-operative clearing house on behalf of its 35 shareholder members, of which Prior Ltd was one. There were no other members in the Oxford area.
It was possible for the company's members to carry goods throughout Great Britain and Ireland, 90 per cent of the goods being tippable, including coal, coke, fertilizer, building material and agricultural produce—in fact, anything tippable, he said. In reply to Mr F. A. Crichton, London divisional licensing representative of British Railways' Western region, Mr Cross said that his members had about 700 vehicles available. He agreed that last year's turnover of £150,000 did not show very great earning power per vehicle, although he said that the vehicles only used his company as one source of work. They would be working elsewhere as well.
Mr Crichton said that BR carried train loads of stone, granite, coal and various other commodities that might well go on Prior's vehicles if the application were granted. He thought it could prove a serious threat to BR and suggested that one solution might be to limit the applied-for variation to only one vehicle on any one day. The LA thought this would be unworkable and inappropriate in this case.