London fares decisions next week
31st July 1970
Page 32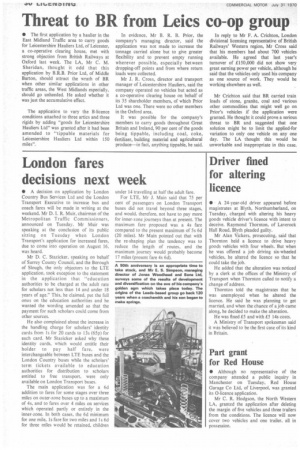 Page 32, 31st July 1970 —
London fares decisions next week
Close
• A decision on application by London Country Bus Services Ltd and the London Transport Executive to increase bus and coach fares will be made in writing at the weekend, Mr D. I. R. Muir, chairman of the Metropolitan Traffic Commissioners. announced on Tuesday. Mr Muir was speaking at the conclusion of its public sitting on Tuesday when London Transport's application for increased fares, due to come into operation on August 16, was heard.
Mr D. C. Stazicker, speaking on behalf of Surrey County Council, and the Borough of Slough, the only objectors to the LTE application, took exception to the statement in the application that "education authorities to be charged at the adult rate for scholars not less than 14 and under 18 years of age." This, he claimed, put the full onus on the education authorities and he wanted the wording amended so that the payment for such scholars could come from other sources.
He also complained about the increase in the handling charge for scholars' identity cards from Is for 20 cards to 13s (65p) for each card. Mr Stazicker asked why these identity cards, which would entitle their holder to pay half fare, were interchangeable between LTE buses and the London Country buses while the scholars' term tickets available to education authorities for distribution to scholars entitled to free transport. were only available on London Transport buses.
The main application was for a 6d addition to fares for some stages over three miles on outer-zone buses up to a maximum of 4s, and to fares over 4 miles on services which operated partly or entirely in the inner-zone. In both cases, the 6d minimum for one mile. ls fare for two miles and Is 6d for three miles would be retained, children under 14 travelling at half the adult fare.
For LTE, Mr J. Main said that 75 per cent of passengers on London Transport buses did not travel beyond three stages. and would, therefore, not have to pay more for inner-zone journeys than at present. The maximum fare proposed was a 4s fare compared to the present maximum of 5s 6d (20 miles). Mr Main pointed out that with the re-shaping plan the tendency was to reduce the length of routes, and the maximum journey would probably become 1'7 miles (present fare 4s 6d).