Lathams get LA's blessing for Beetle haulage
31st July 1970
Page 31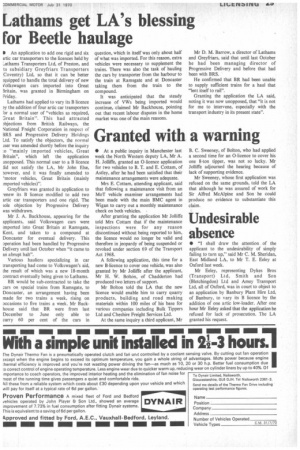 Page 31, 31st July 1970 —
Lathams get LA's blessing for Beetle haulage
Close
I An application to add one rigid and six irtic car transporters to the licences held by Lathams Transporters Ltd, of Preston, and ts subsidiary Greyfriars Transporters 'Coventry) Ltd, so that it can be better :quipped to handle the total delivery of new Volkswagen cars imported into Great Britain, was granted in Birmingham on Friday.
Lathams had applied to vary its B licence Dy the addition of four artic car transporters 'or a normal user of "vehicles as required, Clreat Britain". This had attracted ebjections from British Railways, the National Freight Corporation in respect of EMS and Progressive Delivery Holdings Ltd. To satisfy the objectors, the normal iser was amended shortly before the inquiry :o "mainly imported vehicles, Great Britain", which left the application anopposed. This normal user to a B licence lid not satisfy the LA, Mr John Else, however, and it was finally amended to 'motor vehicles, Great Britain (mainly imported vehicles)".
Greyfriars was granted its application to renew its B licence modified to add two artic car transporters and one rigid. The sole objection by Progressive Delivery was withdrawn.
Mr J. A. Backhouse, appearing for the applicants, said Volkswagen cars were imported into Great Britain at Ramsgate, Kent, and taken to a compound at Doncaster for eventual delivery. This Dperation had been handled by Progressive Delivery until last October when "it came to an abrupt halt".
Various hauliers specializing in car transporting had come to Volkswagen's aid, the result of which was a new 18-month contract eventually being given to Lathams.
BR would be sub-contracted to take the cars on special trains from Ramsgate, to Doncaster, an arrangement having been made for two trains a week, rising on occasions to five trains a week. Mr Backhouse said that BR were from last December to June only able to carry 60 per cent of the cars in question, which in itself was only about half of what was imported. For this reason, extra vehicles were necessary to supplement the trains. There was also the task of hauling the cars by transporter from the harbour to the train at Ramsgate and at Doncaster taking them from the train to the compound.
It was anticipated that the steady increase of VWs being imported would continue, claimed Mr Backhouse, pointing out that recent labour disputes in the home market was one of the main reasons. Mr D. M. Barrow, a director of Lathams and Greyfriars, said that until last October he had been managing director of Progressive Delivery and before that had been with BRS.
He confirmed that BR had been unable to supply sufficient trains for a haul that "lent itself to rail".
Granting the application the LA said, noting it was now unopposed, that "it is not for me to intervene, especially with the transport industry in its present state".