Granted with a warning
31st July 1970
Page 31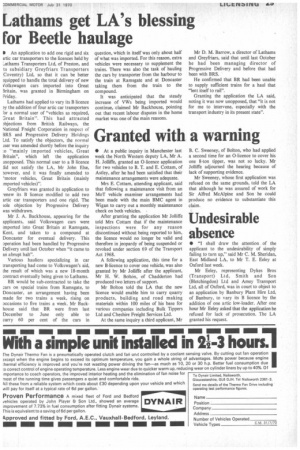 Page 31, 31st July 1970 —
Granted with a warning
Close
• At a public inquiry in Manchester last week the North Western deputy LA, Mr A. H. Jolliffe, granted an 0-licence application for two vehicles to B. T. and E. Cottam, of Astley, after he had been satisfied that their maintenance arrangements were adequate.
Mrs E. Cottam, attending applicant, said that following a maintenance visit from an MoT vehicle examiner arrangements had been made with the main BMC agent in Wigan to carry out a monthly maintenance check on both vehicles.
After granting the application Mr Jolliffe told Mrs Cottam that if the maintenance inspections were for any reason discontinued without being reported to him, the licence would no longer be valid and therefore in jeopardy of being suspended or revoked under section 69 of the Transport Act 1968.
A following application, this time for a new B-licence to cover one vehicle, was also granted by Mr Jolliffe after the applicant, Mr H. W. Bolton, of Chadderton had produced two letters of support.
Mr Bolton told the LA that the new licence would enable him to carry quarry products, building and road making materials within 100 miles of his base for various companies including Bulk Tippers Ltd and Cheshire Freight Services Ltd.
At the same inquiry a third applicant, Mr B. C. Sweeney, of Bolton, who had applied a second time for an 0-licence to cover his one 8-ton tipper, was not so lucky. Mr Jolliffe adjourned the hearing because of lack of supporting evidence.
Mr Sweeney, whose first application was refused on the same grounds, told the LA that although he was assured of work for Sir Alfred McAlpine and Son he could produce no evidence to substantiate this claim.