Acquisition gives more for Ralph Hinton
31st July 1970
Page 30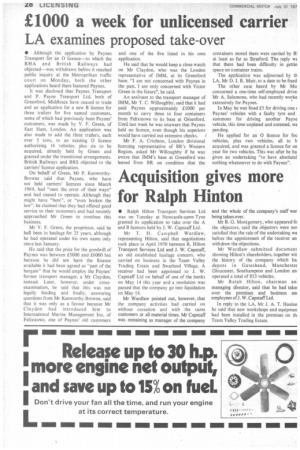 Page 30, 31st July 1970 —
Acquisition gives more for Ralph Hinton
Close
• Ralph Hilton Transport Services Ltd was on • Tuesday at Newcastle-upon-Tyne granted its application to take over the A and B licences held by J. W. Capstaff Ltd.
Mr T. H. Campbell Wardlaw, representing Hilton, said that negotiations took place in April 1970 between R. Hilton Transport Services Ltd and J. W. Capstaff, an old established haulage concern, who carried on business in the Team Valley Trading Estate and Swarland Village. A receiver had been appointed to J. W. Capstaff Ltd on behalf of one of the banks on May 14 this year and a resolution was passed that the company go into liquidation on May 14.
Mr Wardlaw pointed out, however, that the company activities had carried on without cessation and with the same customers at all material times. Mr Capstaff was remaining as manager of the company and the whole of the company's staff wet being taken over.
Mr B. G. Montgomery, who appeared fo the objectors, said the objectors were no satisfied that the sale of the undertaking wa before the appointment of the receiver an withdrew the objections.
Mr Wardlaw submitted document showing Hilton's shareholders, together wit the history of the company which ha, depots in Gateshead, Manchester Gloucester, Southampton and London an, operated a total of 853 vehicles.
Mr Ralph Hilton, chairman an, managing director, said that he had takei over the premises and business ant employees of J. W. Capstan' Ltd.
In reply to the LA, Mr J. A. T. Hanlon he said that new workshops and equipmen had been installed in the premises on tits Team Valley Trading Estate.