£1000 a week for unlicensed carrier
31st July 1970
Page 30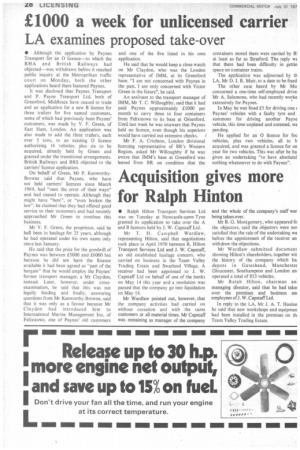 Page 30, 31st July 1970 —
£1000 a week for unlicensed carrier
Close
LA examines proposed take-over
• Although the application by Paynes Transport for an 0 licence—to which the RHA and British Railways had objected—was withdrawn before it reached public inquiry at the Metropolitan traffic court on Monday, both the other applications heard there featured Paynes.
It was disclosed that Paynes Transport and P. Payne Transport Ltd, both of Greenford, Middlesex have ceased to trade and an application for a new B licence for three trailers for five named customers, some of which had previously been Paynes' customers, was made by V. F. Green, of East Ham, London. An application was also made to add the three trailers, each over 5 tons, to an existing 0 licence authorizing 16 vehicles, plus six to be acquired, already held by Green and granted under the transitional arrangements. British Railways and BRS objected to the carriers' licence application.
On behalf of Green, Mr P. KenworthyBrowne said that Paynes, who have not held carriers' licences since March 1969, had "seen the error of their ways" and had ceased to operate. Although they might have "bent", or "even broken the law", he claimed that they had offered good service to their customers and had recently approached Mr Green to conti'nue this business.
Mr V. F. Green, the proprietor, said he !ma been in haulage for 25 years, although he had operated under his own name only since last January.
He said that the price for the goodwill of Paynes was between £5000 and £6000 but because he did not have the finance available it had been agreed as "part of the bargain" that he would employ the Paynes' former transport manager, a Mr Claydon. instead. Later, however, under crossexamination, he said that this was not legally binding and finally, answering questions from Mr Kenworthy Browne, said that it was only as a favour because Mr Claydon had introduced him to International Marine Management Inc. of Felixstowe, one of Paynes' old customers and one of the five listed in his own application.
He said that he would keep a close watch on Mr Claydon, who was the London representative of IMM, at its Greenford base. "I am not concerned with Paynes in the past, I am only concerned with Victor Green in the future", he said.
An assiktant to the transport manager of IMM, Mr T. C. Willoughby, said that it had paid Paynes approximately £1000 per month to carry three to four containers from Felixstowe to its base at Greenford. Until last week he was unaware that Paynes held no licence, even though his superiors would have carried out extensive checks. / Mr F. A. Crichton, London divisional licensing representative of BR's Western Region, asked Mr Willoughby if he was aware that IMM's base at Greenford was leased from BR on condition that the
containers stored there were carried by BI at least as far as Stratford. The reply WE that there had been difficulty in gettin space on container trains.
The application was adjourned by th LA, Mr D. I. R. Muir, to a date to be fixed The other case heard by Mr Mui concerned a one-time self-employed drivel Mr A. Salamone, who had recently worke extensively for Paynes.
In May he was fined £5 for driving one c Paynes' vehicles with a faulty tyre and summons for driving another Payne vehicle, this time unplated and untested, wa pen ding.
He applied for an 0 licence for fou vehicles, plus two vehicles, all to b acquired, and was granted a licence for on year for two vehicles. This was after he ha given an undertaking "to have absolutel nothing whatsoever to do with Paynes".