improved psv from Ford
31st July 1970
Page 29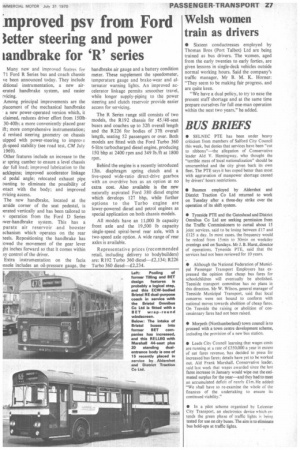 Page 29, 31st July 1970 —
improved psv from Ford
Close
tetter steering and power tandbrake for 'R. series
Many new and improved featres for 71 Ford R Series bus and coach chassis ye been announced today. They include ditional instrumentation, a new aircrated handbrake system, and easier rvicing.
Among principal improvements are the placement of the mechanical handbrake a new power-operated version which, it claimed, reduces driver effort from 1501b 30-401b: a more conveniently placed gear A; more comprehensive instrumentation; d revised steering geometry on chassis nipped with power-steering to improve ;h-speed stability (see road test, CM July 1969).
Other features include an increase to the sr spring camber to ensure a level chassis der full load; improved lubrication to the acklepins; improved accelerator linkage .d pedal angle; relocated exhaust pipe punting to eliminate the possibility of ■ ntact with the body; and improved rvicing access.
The new handbrake, located at the arside corner of the seat pedestal, is ierated vertically and has been tailored to v operation from the Ford D Series pwer-handbrake system. This has a parate air reservoir •and booster echanism which operates on the rear heels. Repositioning the handbrake has lowed the movement of the gear lever ;ht inches forward so that it comes within sy control of the driver.
Extra instrumentation on the facia ■ nsole includes an oil-pressure gauge, the handbrake air gauge and a battery condition meter. These supplement the speedometer, temperature gauge and brake-wear and alternator warning lights. An improved accelerator linkage permits smoother travel, while longer supply-piping to the power steering and clutch reservoir provide easier access for servicing.
The R Series range still consists of two models, the R192 chassis for 45 /48-seat buses and coaches up to 32ft overall length and the R226 for bodies of 37ft overall Length, seating 52 passengers or over. Both models are fitted with the Ford Turbo 360 6-litre turbocharged diesel engine, producing 150 bhp at 2400 rpm and 349 lb/ft at 1800 rpm.
Behindthe engine is a recently introduced 13in. diaphragm spring clutch and a tive-speed wide-ratio direct-drive gearbox with an overdrive box as an option at no extra cost. Also available is the new naturally aspirated Ford 380 diesel engine which develops 127 bhp, while further options to the Turbo engine are lower-powered diesel and petrol engines as special application on both chassis models.
All models have an 11,000 lb capacity front axle and the 19,500 lb capacity single-speed spiral-bevel rear axle, with a two-speed axle option. A wide range of rear axles is available.
Representative prices (recommended retail, including delivery to bodybuilders) are: R192 Turbo 360 diesel—£2,134; R226 Turbo 360 diesel-2,234.