BUS BRIEFS
31st July 1970
Page 29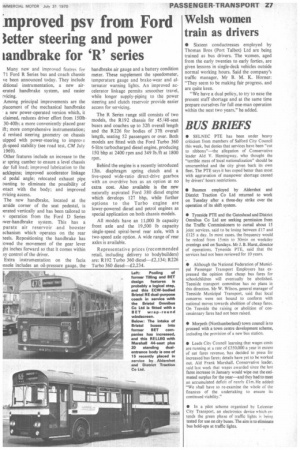 Page 29, 31st July 1970 —
BUS BRIEFS
Close
• SELNEC PTE has been under heavy criticism from members of Salford City Council this week, but denies that services have been "cut to ribbons"—the allegation of Conservative leader Ald V. Hemingway, who thought the "terrible mess of local nationalization" should be unscrambled and the city given back its own fleet. The PTE says it has coped better than most with aggravation of manpower shortage caused by drivers' hours restrictions.
• Busmen employed by Aldershot and District Traction Co Ltd returned to work on Tuesday after a three-day strike over the operation of its shift system.
• Tynesid.e PTE and the Gateshead and District Omnibus Co Ltd are seeking permission from the Traffic Commissioners to curtail about 15 joint services, said to be losing between £17 and £125 a day. In most cases, the frequency would be redceci from 15min to 30rnin on weekday evenings and on Sundays. Mr J. B. Hurst, director of operations, Tyneside PTE, said that the services had not been reviewed for 10 years.
• Although the National Federation of Municipal Passenger Transport Employers, has expressed the opinion that cheap bus fares for schoolchildren will eventually be abolished. Teesside transport committee has no plans in this direction. Mr W. Wilson. general manager of Teesside Municipal Transport, said that local concerns were not bound to conform with national moves towards abolition of cheap fares. On Teesside the raising or abolition of concessionary fares had not been raised.
• Morpeth (Northumberland) town council is to proceed with a town centre development scheme, including the provision of a new bus station.
• Leeds City Council learning that wages costs are running at a rate of £350,000 a year in excess of net fares revenue. has decided to press for increased bus fares; details have yet to be worked Out. Ald Frank Marshall, Conservative leader, said last week that wages awarded since the last fares increase in January would wipe out the estimated surplus for the year—and they had to meet an accumulated deficit of nearly f 1 rri . He added: "We shall have to re-examine the whole of the finances of the undertaking to ensure its continued viability."
• In a pilot scheme organized by Leicester City Transport, an electronics device which extends the green phase of traffic lights is being tested for use on city buses. The aim is to eliminate bus hold-ups at traffic lights.