People
31st July 1970
Page 26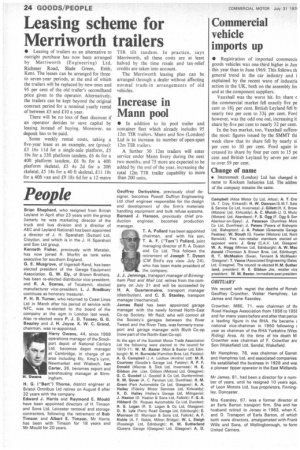 Page 26, 31st July 1970 —
People
Close
Brian Shepherd, who resigned from British Leyland in April after 23 years with the group (latterly he was marketing director of the truck and bus division and a director of AEC and Leyland National) has been appointed a director of J. H. Sparshatt (Sutton) Ltd, Croydon, and which is in the J. H. Sparshatt and Son Ltd group.
Kenneth Fisher, previously with IV1etalair, has now joined R. Murfitt as tank sales executive for southern England.
G. E. Musgrove, of Ingersoll-Rand. has been elected president of the Garage Equipment Association. G. W. Ely, of Brown Brothers, has been re-elected distributor vice-president, and R. A. Scenes, of Tecalemit. elected manufacturer vice-president. L. J. Bradbury continues as honorary treasurer.
P. H. R. Turner, who returned to Coast Lines Ltd in March after his period of service with NFC, was re-elected to the board of the company at the agm in London last week. Also re-elected were P. J. D. Toosey, G. G. Beazley and J. H. Joyce. K. W. C. Grand, chairman, was re-appointed, Harry Owens, 44, since 1968 operations manager of the Stockport depot of National Carriers Ltd, becomes depot manager at Cambridge, in charge of an area including Ely, King's Lynn. Newmarket and Wisbech. Ian Carter, 36, becomes export and warehousing manager at Birmingham.
H. G. ("Bert") Thorne, district engineer at Bristol Omnibus Ltd retires on August 6 after 32 years with the company.
Edward J. Harris and Raymond E. Mould have been appointed directors of H. Timson and Sons Ltd, Leicester removal and storage contractors, following the retirement of Bob Timson and Albert E. Timson. Mr Harris has been with Timson for 18 years and Mr Mould for 20 years. Geoffrey Derbyshire, previously chief designer, becomes Powell Duffryn Engineering Ltd chief engineer responsible for the design and development of the firm's materials handling equipment and bulk refuse systems. Bernard J. Hanson, previously chief production engineer, becomes production manager.
T. A. Pollard has been appointed chairman, and with his son, T. A. F. ("Tom") Pollard, joint managing director of R. A. Dyson and Co Ltd. This follows the retirement of Joseph T. Dyson (CM Bird's eye view July 24), who has been made president of the company.
J. J. Jennings, transport manager of Birmingham Post and Mail Ltd, retires from the company on July 31 and will be succeeded by H. A. Quartermaine, transport manager (distribution), and C. S. Stanley, transport manager (mechanical).
James Reid has been appointed garage manager with the newly formed North-East Co-op Society. Mr Reid, who will control all the Society's garages between the River Tweed and the River Tees, was formerly transport and garage manager with Blyth Co-op (now part of the North-East Co-op).
At the agm of the Scottish Motor Trade Association Ltd the following were elected to the council for 1970-71: W. M. Baxter (Moir & Baxter Ltd, Edinburgh); N. H. Burnside (Hamilton Bros. Ltd, Paisley); A. G. Campbell U. A. Laidlaw (Airdrie) Ltd): M. R. Courtney (Goudie's Garage Ltd. Paisley): R. P. F. Donald (Macrae & Dick Ltd. Inverness): H. E. Gibbon Jnr. (Jas. Gibbon (Motors) Ltd, Glasgow): G. C. Goodall (J. Goodall & Co Ltd, Dunfermline); R. M. Gover (A. C. Penman Ltd, Dumfries): R. M. Grant (Park Automobile Co Ltd, Glasgow): A. A. Halley (Fidelity Motor Services Ltd. Kirkcaldy); K. D. Halley (Halley's Garage Ltd, Milngavie); J. Haston (D. Hasten & Sons Ltd, Falkirk): F. GA. Hibbard (St. Rogues Automobile Co Ltd. Dundee); R. S. Logan (R. S. Logan & Co Ltd. Glasgow); D. B. Lyle (Ferry Road Garage Ltd, Edinburgh); E. Morrison ID. Morrison & Sons Ltd, Falkirk); A. F. Noble (A. F. Noble. Milton Bridge); W. L. Sleigh IRossleigh Ltd, Edinburgh); H. M. Sutherland (Queens Garage (Glasgow) Ltd, Glasgow); A. D. Campbell (Alba Motor Co Ltd. Alloal ; A. T. Cro (A. T. Croy, Kirkwall); H. W. Dawson)S.M,f. Sale & Service Co Ltd, Invernessl; J. Gillett lH. K. Brow (Motors) Ltd. Kirkcaldy); A. C. Mutch (J. G. Mute (Motors) Ltd. Aberdeen): F. S. Ogg (F. Ogg & Sor Aberlour-on-Spey): J. Paterson (Dumfries Motc Co Ltd, Dumfries): J. Peters Peters of Boshopto Ltd, Bishopton): J. A. Polson (Greenside Garag€ Peebles); W. Struth IG. Fowler (Motors) Ltd, Non Berwick). Five non-retailer members elected ur opposed were: J. Gray (C.A.V. Ltd, Glasgow, W. A. Hogg (Mintex Ltd. Edinburgh): A. W. Mac donald (Thomson & Brown Bros. Ltd. Edinburgh; R. T. McMeekin I Swan, Tennent & McMeekir Glasgow): T. Vance (Associated Engineering (Sales Ltd, Glasgow). The council re-elected H. M. Suther land, president: H. E. Gibbon Jnr, retailer ViCE president: W. M. Baxter, immediate past presiden.
Tags
People
:
Joseph T. Dyson
,
T. A. Pollard
,
Bernard J. Hanson
,
Geoffrey Derbyshire
,
H. R. Turner
,
Edward J. Harris
,
Raymond E. Mould
,
C. S. Stanley
,
Brian Shepherd
,
Harry Owens
,
James Reid
,
W. C. Grand
,
Gibbon Jnr
,
Kenneth Fisher
,
Bob Timson
,
A. F. ("Tom") Pollard
,
Albert E. Timson
,
Ian Carter
,
H. A. Quartermaine
,
J. J. Jennings