Lift this load
31st July 1970
Page 19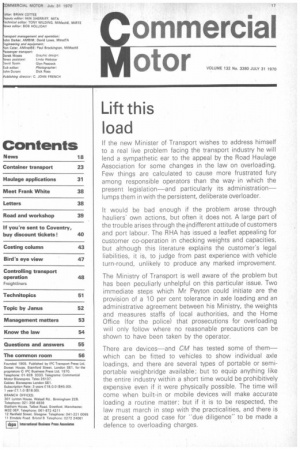 Page 19, 31st July 1970 —
Lift this load
Close
If the new Minister of. Transport wishes to address himself to a real live problem facing the transport industry he will lend a sympathetic ear to the appeal by the Road Haulage Association for some changes in the law on overloading. Few things are calculated to cause more frustrated fury among responsible operators than the wayin which the present legislation—and particularly its administration— lumps them in with the persistent, deliberate overloader.
It would be bad enough if the problem arose through hauliers' own actions, but often it does not. A large part of the trouble arises through the ndifferent attitude of customers and port labour. The RHA has issued a leaflet appealing for customer co-operation in checking weights and capacities, but although this literature explains the customer's legal liabilities, it is, to judge from past experience with vehicle turn-round, unlikely to produce any marked improvement.
The Ministry of Transport is well aware of the problem but has been peculiarly unhelpful on this particular issue. Two immediate steps which Mr Peyton could initiate are the provision of a 10 per cent tolerance in axle loading and an administrative agreement between his Ministry, the weights and measures staffs of local authorities, and the Home Office (for the police) that prosecutions for overloading will only follow where no reasonable precautions can be shown to have been taken by the operator.
There are devices—and CM has tested some of them— which can be fitted to vehicles to show individual axle loadings, and there are several types of portable or semiportable weighbridge available; but to equip anything like the entire industry within a short time would be prohibitively expensive even if it were physically possible. The time will come when built-in or mobile devices will make accurate loading a routine matter; but if it is to be respected, the law must march in step with the practicalities, and there is at present a good case for "due diligence" to be made a defence to overloading charges.