IN YOUR OPINION
31st July 1964
Page 67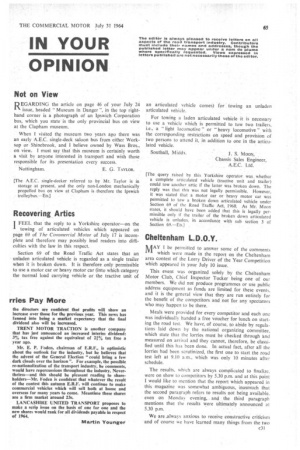 Page 68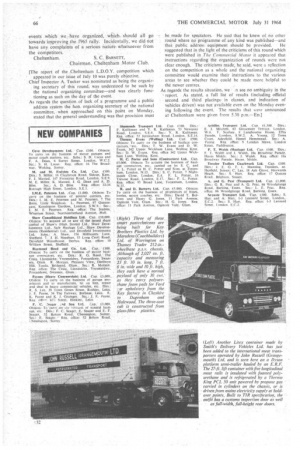 Page 67, 31st July 1964 —
IN YOUR OPINION
Close
Not on View
REGARDING the article on page 46 of your July 24 issue, headed "Museum in Danger ", in the top righthand corner is a photograph of an Ipswich Corporation bus, which you state is the only provincial bus on view at the Clapham museum.
When 1 visited the museum two years ago there was an early A.E.C. single-deck saloon bus from either Worksop or Shinebrook, and I believe owned by Wass Bros., on view. I must say that this museum is certainly worth a visit by anyone interested in transport and wish those responsible for its presentation every success.
Nottingham. E. G. Timm,.
[The A.E.C. single-decker referred to by Mr. Taylor is in storage at present, and the only non-London mechanically propelled bus on view at Clapham is-therefore the Ipswich trolleybus.—ED.]
Recovering Artics
I FEEL that the reply to a Yorkshire operator—on the towing of articulated vehicles which appeared on page 69 of The Commercial Motor of July 17 is incomplete and therefore may possibly lead readers into difficulties with the law in this respect.
Section 69 of the Road Traffic Act states that an unladen articulated vehicle is regarded as a single trailer when it is broken down. It is therefore only permissible to use a motor car or heavy motor car (into which category the normal load carrying vehicle or the tractive unit of an articulated vehicle comes) for towing an unladen articulated vehicle. •
For towing a laden articulated vehicle it is necessary to use a vehicle which is permitted to tow two trailers, i.e., a "light locomotive" or "heavy locomotive" with the corresponding restrictions on speed and provision of two persons to attend it, in addition to one in the articulated vehicle.
Southall, Middx. J. S. MOON, Chassis Sales Engineer, A.E.C. Ltd.
[The query raised by this Yorkshire operator. was, whether a complete articulated vehicle (tractive unit and trailer) could tow another artic if the latter was broken down. The reply was that this was not legally permissible. However, it was stated that a motor car or heavy motor car was permitted to tow a broken down articulated vehicle under Section 69 of the Road Traffic Act, 1960. As Mr. Moon states, it should have been added that this is legally permissible only if the trailer of the broken down articulated vehicle is unladen, in accordance with sub section 3 of Section 69.--En.]
Cheltenham L.D.O.Y.
MAY! be permitted to answer some of the comments which were made in the report on the Cheltenham area contest of the Lorry Driver of the Year.Competition which appeared in your July 10 issue.
This event was organized solely by the 'Cheltenham Motor Club, Chief Inspector Tucker being one of our members. We did not produce programmes or use public address equipment as funds are limited for these events, and it is the general view that they are run entirely for the benefit of the competitors and not for any spectators who may happen to be there.
Meats were provided for every competitor and each one was individually handed a free voucher for lunch on starting the road test. We have, of course, to abide by regulations laid down by the national organizing committee, which state that the lorries must be checked through and measured on arrival and they cannot, therefore, be classified until this has been done. In actual fact, after all the lorries had been scrutinized, the first one to start the road test left at 9.10 a.m., which was only 10 minutes after schedule.
The results, which are always complicated to finalize, were on show to competitors by 530 p.m. and at this point I would like to mention that the report which appeared in this magazine was somewhat ambiguous, inasmuch that the second paragraph refers to results not being available. even on Monday evening, and the third paragraph mentions that the results were ultimately announced at 5.30 p.m.
We are _always anxious to receive constructive criticism and of course we have learned many things from the two
events which we have organized, which should all go towards improving the f965 rally. Incidentally, we did not have any complaints of a serious nature whatsoever from the competitors.
Cheltenham, S. C. BARNETT, Chairman, Cheltenham Motor Club.
[The report of the Cheltenham L.D.O.Y. competition which appeared in our issue of July 10 was purely objective.
Chief Inspector A. Tucker was nominated as being the organizing secretary of this round, was understood to be such by the national organizing committee—and was clearly functioning as such on the day of the event. As regards the question of lack of a programme and a public address system the hon. organizing secretary of the national committee, when approached on this point on Monday, stated that the general understanding was that provision must
be made for spectators. He said that he knew of, no other round where no programme of any kind was published—and that public address equipment should be provided. He suggested that in the light of the criticisms of this round which were published in The Commercial Motor it appeared that instructions regarding the organization of rounds were not clear enough. The criticisms made, he said, were a reflection on the competition as a whole and the national organizing committee would examine their instructions to the various areas to see whether they could be made more helpful to the newer centres.
As regards the results situation, we in see no ambiguity in the report. As stated, a full list of results (including official second. and third placingsin classes, and indication of vehicles driven) was not available even on the Monday evening following the event. The results that were announced at Cheltenham were given from 5.30 p.m.—ED.]