MONEY MATTERS
31st July 1964
Page 66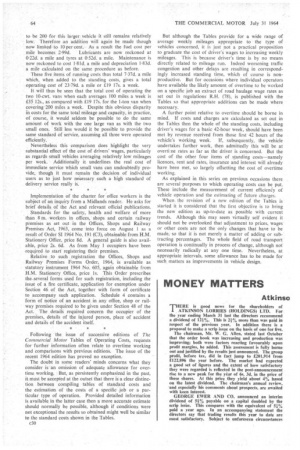 Page 67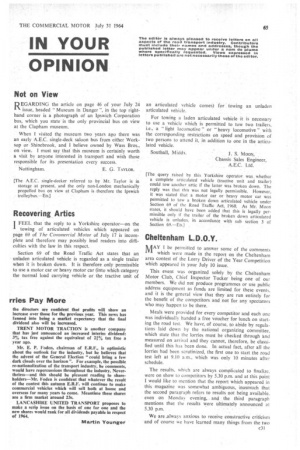 Page 66, 31st July 1964 —
MONEY MATTERS
Close
Atkins°
rries Pay More
'THERE is good news for the shareholders of .I. ATKINSON LORRIES (HOLDINGS) LTD. For the year ending March 31 last the directors recommend a dividend of 121%. This is 4% more than was paid in respect of the previous year. In addition there is a proposal to make a scrip issue on the basis of one for five.
The chairman, Mr. W. G. Allen, stated last October that the order book was increasing and production was improving; both were factors reacting favourably upon profit margins, he added. This assessment is fully borne out and justified by the results just announced. The group profit, before tax, did in fact jump to £201,914 from £122,896 the year before. The market had expected a good set of figures and the extent of how satisfactory they were regarded is reflected in the post-announcement rise to a new peak for the year of 6s. 3d. in the price of these shares. At this price they yield about 4% based on the latest dividend. The chairman's annual review, and especially his comments about prospects, are awaited with keen interest.
GEORGE EWER AND CO. announced an interim dividend of 51% payable on a capital doubled by the scrip issite. This compares with the equivalent of 51% paid a year ago. In an accompanying statement the directors say that trading results this year to date are most satisfactory. Subject to unforeseen circumstances
the directors are confident that profits will show an increase over those for the previous year. This news has fanned into being a market expectancy that the final dividend also will be increased.
TRENT MOTOR TRACTION is another company that has just announced an increased interim dividend: 3% tax free against the equivalent of n% tax free a year ago.
Mr. E. P. Foden, chairman of E.R.F., is optimistic about the outlook for the industry, but he believes that the advent of the General Election "could bring a few dark clouds over the horizon ". For example, the possible re-nationalization of the transport industry, he comments, would have repercussions throughout the industry. Nevertheless—and this should be pleasant reading to shareholders—Mr. } oden is confident that whatever the result of the contest this autumn E.R.F. will continue to make commercial vehicles which will sell both at home and overseas for many years to come. Meantime these shares are a firm market around 23s.
LANCASHIRE UNITED TRANSPORT proposes to make a scrip issue on the basis of one for one and the new shares would rank for all dividends payable in respect of 1964.
Martin Younger