BIRD'S
31st July 1964
Page 51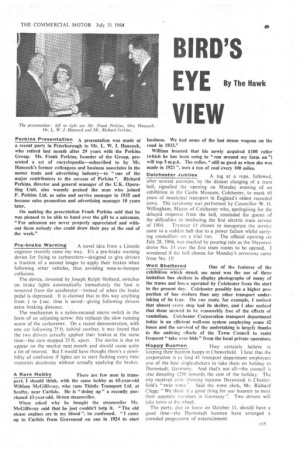 Page 51, 31st July 1964 —
BIRD'S
Close
EYE By The Hawk
VIEW
Perkins Presentation A presentation was made at a recent party in Peterborough to Mr. L. W. J. Hancock, who retired last month after 29 years with the Perkins Group. Mr. Frank Perkins, founder of the Group, presented a set of encyclopedia—subscribed to by Mr. Hancock's former colleagues and business associates in the motor trade and advertising industry—to "one of the major contributors to the success of Perkins", Richard Perkins, director and general manager of the U.K. Operaling Unit, also warmly praised the man who joined F. Perkins Ltd. as sales and service manager in 1935 and became sales promotion and advertising manager 10 years later.
On making the presentation Frank Perkins said that he was pleased to be able to hand over the gift to .a salesman. "For salesmen are never properly appreciated and without them nobody else could draw their pay at the end of the week.
Pre-brake Warning A novel idea from a Lincoln
engineer recently came my way. It's a pre-brake warning device for axing to carburetters—designed to give drivers a fraction of A second longer to apply their brakes when following other vehicles, thus avoiding nose-to-bumper collisions.
The device, invented by Joseph Ralph Holland, switches on brake lights automatically immediately the foot is removed from the accelerator—instead of when the brake pedal is depressed. It is claimed that in this way anything from to -} sec. time is saved—giving following drivers extra braking distance.
The mechanism is a nylon-encased micro switch in the form of an adjusting screw: this replaces the slow running screw of the carburetter. On a recent demonstration, with one car following 25 ft. behind another, it was found that the two drivers actually applied their brakes at the same time—the cars stopped 25 ft. apart. The device is due to appear on the market next month and should cause quite a lot of interest. But I would have thought there's a possibility of confusion if lights are to start flashing every time motorists decelerate without actually applying the brakes.
A Rare Hobby There are few men in trans port, I should think, with the same hobby as 65-year-old William McGillivray, who runs Thistle Transport Ltd. at Scotby, near Carlisle. He is "doing up" a recently purchased 43-year-old, 10-ton steamroller.
When asked why he bought the steamroller Mr. McGillivray said that he just couldn't help it. "The old steam engines are in my blood ", he confessed. "I came up to Carlisle from Gravesend on one in 1924 to start business. We had some of the last steam wagons on the road in 1933."
William boasted that his newly acquired E100 roller (which he has been using to "run around my farm on ") will top 5 m.p.h. The roller, "still as good as when she was made in 1921", uses a ton of coal every 100 miles.
Colchester Jubilee A tug at a rope, followed,
after several attempts, by the distant clanging of a tram bell, signalled the opening on Monday evening of an exhibition in the Castle Museum, Colchester, to mark 60 years of municipal transport in England's oldest recorded town. The ceremony was performed by Councillor W. H. Willingham, Mayor of Colchester who, apologising for the delayed response from the bell, reminded the guests of the difficulties in instituting the first electric tram service of 1904. Tramcar 13 chosen to inaugurate the service came to a sudden halt due to a power failure whilst carry
ing councillors on a trial run. The official opening on July 28, 1904, was marked by pouring rain as the Mayoress drove No. 13 over the first tram routes to be opened. I wondered if the bell chosen for Monday's ceremony came from No. 13!
Well Sheltered One Of the features of the exhibition which struck me most was the use of three imitation bus shelters to display photographs of many of the trams and bows operated by Colchester from the start to the present day. Colchester possibly has a higher proportion of bus shelters than any other transport underbiking of its type. On one route, for example, I noticed that almost every stop had its shelter, and I also noticed that these seen.: ed to he reasonably free of the effects of vandalism. Colchester Corporation transport department today is an efficient well-run system employing some 42 buses and the survival of the undertaking is largely thanks to the untiring efforts of the Town Council to resist frequent "take over bids" from the local private operators.
Happy Busmen They certainly believe in keeping their busmen happy in Chesterfield. 1 hear that the corporation is to lend 41 transport department employees one of the best single-deckers to take them on holiday to Darmstadt, Germany. And that's not all—the council is also donating f_250 towards the cost of the holiday. The trip received civic blessing because Darmstadt is Chesterfield's "twin town -. Said the town clerk, Mr. Richard Clegg: "We think it a good thing for our busmen to meet their opposite numbers in Germany ", Two drivers will take turns at the wheel.
The party, due to leave on October 11, should have a good time—the Darmstadt busmen have arranged a crowded programme of entertainment