Mr. A. B. B. Valentine, chairman of London Transport Board,
31st July 1964
Page 25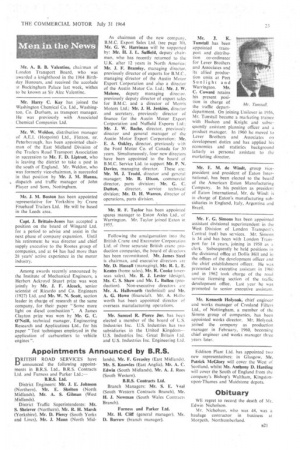 Page 25, 31st July 1964 —
Mr. A. B. B. Valentine, chairman of London Transport Board,
Close
who was awarded a knighthood in the 1964 Birthday Honours. and received the accolade at Buckingham Palace last week, wishes to be known as Sir Alec Valentine.
Mr. Harry C. Kay has joined the Washington Chemical Co. Ltd., Washington, Co. Durham, as transport manager. He was previously with Associated Chemical Companies Ltd.
Mr. W. Weldon, distribution manager of A.E.I. (Hotpoint) Ltd., Fletton, nr. Peterborough, has been appointed chairman of the East Midland Division of the Traders Road Transport Association in succession to Mr. F. D. Liptrott, who is leaving the district to take a post in the south of England. Mr. Weldon, who was formerly vice-chairman, is succeeded in that position by Mr. J. M. Hanna, dispatch and traffic manager of John Player and Sons, Nottingham.
Mr. J. M. Boston has been appointed representative for Yorkshire by Crane Fruehauf Trailers Ltd. He will be based in the Leeds area.
Capt. J. Brittain-Jones has accepted a position on the board of Wingard Ltd. for a period to advise and assist in the next phase of company expansion. Until his retirement he was director and chief supply executive to the Rootes group of companies, and at 64 has had more than 28 years' active experience in the motor industry.
Among awards recently' announced by the Institute of Mechanical Engineers, a Herbert Ackroyd Stuart prize was won jointly by Mr. J. F. Alcock, senior scientist of Ricardo and Co, Engineers (1927) Ltd. and Mr. W. N. Scott, section leader in charge of research at the same company, for their paper "Some more light on diesel combustion". A James Clayton prize was won by Mr. G. C. O'Neill, technical manager, Engineering Research and Applications Ltd., for his paper "Test techniques employed in the application of carburetters to vehicle engines". As chairman of the new company. B.M.C. Export Sales Ltd. (see page 30), Mr. G. W. Harriman will be supported by: Mr. H. J. L. Suffield, deputy chairman, who has recently returned to the U.K. after 12 years in North America; Mr. J. F. Bramley, managing director, previously director of exports for managing director of the Austin Motor Export Corporation and also a director of the Austin Motor Co. Ltd.; Mr. J. W. Malone, deputy managing director. previously deputy director of export sales for B.M.C. and a director of Morris Motors Ltd.; Mr. .1. H. Jenkins, director and secretary, previously director of finance for the Austin Motor Export Corporation and Nuffield Exports Ltd.: Mr. J. W. Bache, director, previously director and general manager of the Austin Motor Export Corporation: Mr. E. A. Oakley, director, previously with the Ford Motor Co. of Canada for 30 years. Simultaneously, four new directors have been appointed to the board of B.M.C. Service Ltd. to support Mr. P. N. Davies, managing director. These are: Mr. M. J. Trodd, director and general manager; Mr. R. Dixon, commercial director, parts division; Mr. G. C. Dutton, director, service technical division; Mr. D. H. Warren, director of operations, parts division.
Mr. R. F. Taylor has been appointed spares manager to Eaton Axles Ltd.. ot Warrington. Mr. Taylor joined Eaton in 1955.
Following the amalgamation into the British Crane and Excavator Corporation Ltd. of three separate British crane production companies, the board of directors has been reconstituted. Mr. James Steel is chainnan, and executive directors are Mr. D. Hassall (managing), Mr. R. L. E. Keates (home sales), Mr. R. Cooke (overseas sales), Mr. R. J. Lester (design), Mr. C. S. Shaw and Mr. I– Bullen (production). Non-executive directors are Mr. A. Hallsworth (technical) and Mr. A. G. Howe (financial). Mr. A. Hallsworth has been appointed director of overseas manufacturing operations.
Mr. Samuel R. Pierce Jnr. has been elected a member of the board of U.S. Industries Inc. U.S. Industries has two subsidiaries in the United Kingdom-U.S. Industries Inc. Great Britain Ltd. and U.S. Industries Inc. Engineering Ltd.
Mr. Tunstall.
Mr. J. K. Tunstall has been appointed transport and distribution co-ordinator for Lever Brothers and Associates and its allied production units at Port Sunlight and Warrington. Mr. C. Coward retains his present position in charge of the traffic departdepartment. On joining Unilever in 1956, Mr. Tunstall became a marketing trainee with Hudson and Knight and subsequently assistant planning officer and a product manager. In 1960 he moved to Lever Brothers and Associates on development duties and has applied his economics and statistics background latterly as personal assistant to the marketing director, Mr. E. M. de Windt, group vicepresident and president of Eaton International, has been elected to the board of the American Eaton Manufacturing Company. In his position as president of Eaton International, Mr. de Windt is in charge of Eaton's manufacturing subsidiaries in England, Italy, Argentina and Mr. F. G. Simons has been appointed assistant divisional superintendent in the West Division of London Transport's Central (red) bus services. Mr. Simons is 34 and has been with London Transport for 14 years, joining in 1950 as a clerk. Subsequently he held positions in the divisional office at Dollis Hill and in the offices of the development officer and the chief establishment officer. He was promoted to executive assistant in 1960 and in 1962 took charge of the road service licensing section of the traffic development office. Last year he was promoted to senior executive assistant.
Mr. Kenneth Holyoak, chief engineer and works manager of Crosland Filters Ltd., of Nottingham, a member of the Simms group of companies, has been appointed works director. Mr. Holyoak joined the company as production manager in February, 1960, becoming chief engineer and works manager three years later.
Tags
People
:
B. B. Valentine
,
J. M. Hanna
,
R. Cooke
,
E. M. de Windt
,
Alec Valentine
,
J. F. Alcock
,
F. G. Simons
,
R. J. Lester
,
C. Coward
,
F. D. Liptrott
,
A. Hallsworth
,
E. A. Oakley
,
D. H. Warren
,
Hudson
,
G. W. Harriman
,
C. S. Shaw
,
Harry C. Kay
,
Samuel R. Pierce
,
R. F. Taylor
,
J. W. Malone
,
J. K. Tunstall
,
James Steel
,
J. M. Boston
,
R. Dixon
,
J. Brittain-Jones
,
M. J. Trodd
,
J. L. Suffield
,
H. Jenkins
,
R. Pierce Jnr
,
P. N. Davies
,
G. C. Dutton
,
W. N. Scott
,
J. W. Bache
,
A. G. Howe
,
J. F. Bramley
,
Kenneth Holyoak
,
D. Hassall
,
W. Weldon
,
Neill