Semi-trailer or Trailer at Will
31st July 1953
Page 50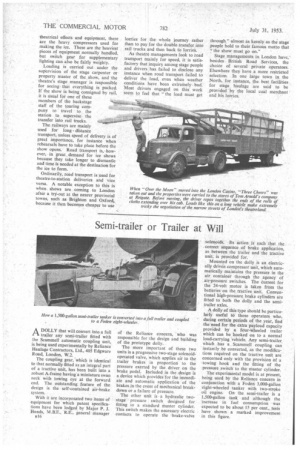 Page 50, 31st July 1953 —
Semi-trailer or Trailer at Will
Close
A DOLLY that will convert into a full /-1. trailer any semi-trailer fitted with the Scammell automatic coupling unit, is being used experimentally by Reliance Haulage Contractors, Ltd., 405 Edgware Road, London, W.2.
The coupling gear, which is identical to that normally fitted as an integral part of a tractive unit, has been built into a robust A-frame having a miniature swan neck with towing eye at the forward end. The outstanding feature of the design is the self-contained air-brake system.
With it are incorporated two items of equipment for which patent specifications have been lodged by Major P. 1. Hands, M.B.E., R.E., general manager of the Reliance concern, who was responsible for the design and building of the prototype dolly.
The more important of these two units is a progressive two-stage solenoidoperated valve, which applies air to the trailer brakes in proportion to the pressure exerted by the driver on the brake pedal. Included in the design is a device which provides for the immediate and automatic application of the brakes in the event of mechanical breakdown or a failure of pressure.
The other unit is a hydraulic twostage pressure switch designed for fitting to a standard master cylinder. This switch makes the necessary electric contacts to operate the .brake-valve solenoids. Its action is such that the correct sequence of brake application, as between the trailer and the tractive unit, is provided for.
Mounted on the dolly is an electrically driven compressor unit, which automatically maintains the pressure in the air container through the agency of air-pressure switches. The Current for the 24-volt motor is taken from the batteries on the tractive unit. Conventional high-pressure brake cylinders are fitted to both the dolly and the semitrailer axles.
A dolly of this type should be particularly useful to those operators who, during certain periods of the year, find the need for the extra payload capacity provided by a four-wheeled trailer which can be hooked on to a normal load-carrying vehicle. Any semi-trailer which has a Scammell coupling can instantly be converted, as the modifications required on the tractive unit are concerned only with the provision of a lowing hook and the fitting of the pressure switch to the master cylinder.
The experimental model is at present, being used by the Reliance concern in conjunction with a Foden 3,000-gallon eight-wheeled tanker with two-stroke oil engine. On the semi-trailer is a 1,500-gallon tank and although the increase in fuel consumption was expected to be about 15 per cent., tests have shown a marked improvement in this figure.