£500,000 Turkish Order to Speed Grain Handling
31st July 1953
Page 35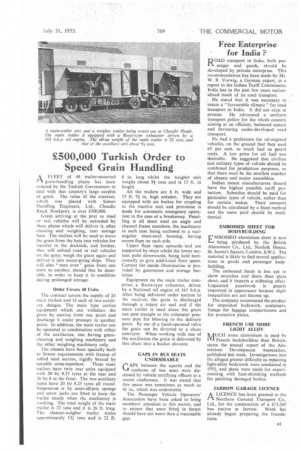 Page 35, 31st July 1953 —
£500,000 Turkish Order to Speed Grain Handling
Close
AA FLEET of 48 trailer-mounted grain-handling plants has been ordered by the Turkish Government to deal with that country's large surplus of grain. The value Of the contract, which was placed with Simon !Candling Engineers, Ltd., Cheadle Road. Stockport, is over £500,000.
Grain arriving at the port in road or rail vehicles will be unloaded by these plants which will deliver it, after cleaning and weighing, into storage huts. The trailers will be used to move the grain from the huts into vehicles for transfer to the dockside, and further, they will unload road or rail vehicles on the quay, weigh the grain again and deliver it into ocean-going ships. They will also "turn over" grain from one store to another, should this be desirable, in order to keep it in condition during prolonged storage.
Order Covers 48 Units The contract covers the supply of 24 main trailers and 12 each of two auxiliary designs. The main type carries equipment which can withdraw the grain by suction from one point and discharge it under pressnre to another point. In addition, the main trailer can be operated in combination with either of the auxiliaries, one having graincleaning and weighing machinery and I he other weighing machinery only.
The chassis have been specially built to Simon requirements with frames of rolled steel section, rigidly braced by suitable cross-members. These main trailers have twin rear axles equipped with 20 by 8.25 tyres at the rear and 36 by 8 at the front. The two auxiliary types have 20 by 8.25 tyres all round. Suspension is by semi-elliptic springs and screw jacks are fitted to keep the trailer steady when the machinery is working. The total weight of the main trailer is 22 tons and it is 26 ft. bong. The cleaner-weigher trailer scales approximately 13i tons and is 22 ft.
6 in. long whilst the weigher unit weighs about 91 tons and is 15 ft. in length.
All the trailers are 8 ft. wide and 15 ft. 71 in. high unladen. They are equipped with air brakes for coupling to the tractive unit and provision is made for automatic emergency operation in the case of a breakaway. Panelling is all sheet steel on angle and channel frame members, the machinery in each case being enclosed in a rectangular sheet-steel housing, having access flaps on each side.
Upper flaps open upwards Wand are supported by stays whilst the lower section pulls downwards, being held horizontally to give additional floor space. Current for inside illumination is provided by generators and storage batteries.
Equipment on the main trailer comprises a Roots-type exhauster, driven by a National oil engine of 165 b.h.p. After being delivered under suction to the receiver, the grain is discharged through a rotary air seal and if the main trailer is used alone the grain can pass straight to the• exhauster pressure pipe for blowing to thc delivery point. By use of a hand-operated valve the grain can be diverted to a chute conveyor. When working with one of the auxiliaries the grain is delivered by this chute into a bucket elevator.
GAPS IN BUS SEATS UNDESIRABLE
GAPS between the squabs and the cushions of bus seats were discussed by vehicle certifying officers at a recent conference. It was stated that this space was sometimes as much as 41 in., which was undesirable.
The Passenger Vehicle Operators' Association have been asked to bring members' attention to this matter, and to ensure that scats fitted in future should have not more than a reasonable gap.