Minister Allows Works Service
31st July 1953
Page 34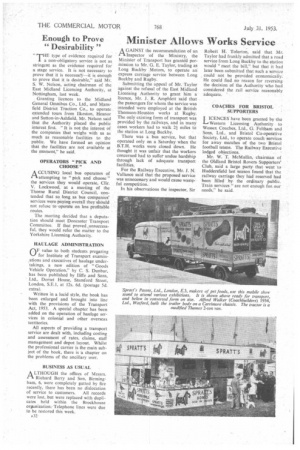 Page 34, 31st July 1953 —
Minister Allows Works Service
Close
ACiA1NST the recommendation of an Inspector of the Ministry, the Minister of Transport has grante'd permission to Mr. G. E. Taylor, trading as Long Buckby Motors, to operate an express carriage service between Long Buckby and Rugby.
Submitting the appeal of Mr. Taylor against the refusal of the East Midland Licensing Authority to grant him a licence, Mr. J. R. Amphlett said that the passengers for whom the service was intended were employed at the British Thomson-Houston works at Rugby. The only existing form of transport was provided by the railways, and in many cases workers had to walk 21 miles to the station at Long Buckby.
There was a bus service, but that operated only on a Saturday when the B.T.H. works were closed down. He thought it was unfair that the workers concerned had to suffer undue hardship through lack of adequate transport facilities.
For the Railway Executive, Mr. J. N. Valiance said that the proposed service was unnecessary and would cause wasteful competition.
In his observations the inspector, Sir Robert H. Tolerton, said that Mr. Taylor had frankly admitted that a road service from Long Buckby to the station would "meet the bill," but that it had later been submitted that such a service could not be provided economically. He could find no reason for reversing the decision of the Authority who had considered the rail service reasonably adequate. '
COACHES FOR BRISTOL SUPPORTERS
LICENCES have been granted by the Western Licensing Authority to Wessex Coaches, Ltd., G. Feltham and Sons, Ltd., and Bristol Co-operative Society, Ltd., to operate coach services for away matches of the two Bristol football teams. The Railway Executive lodged objections.
Mr. W. T. McMullin, chairman of the Oldland Bristol Rovers Supporters' Club, said a large party that went to Huddersfield last season found that the railway carriage they had reserved had been filled by the ordinary public. Train services "are not enough for. our needs," he said.