Enough to Prove " Desirability "
31st July 1953
Page 34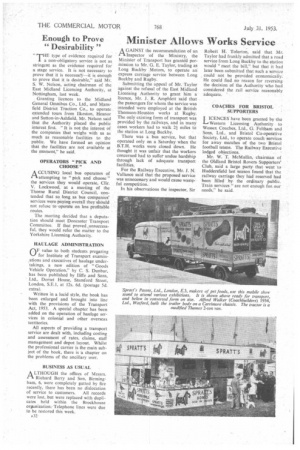 Page 34, 31st July 1953 —
Enough to Prove " Desirability "
Close
Keywords :
" THE type of evidence required for a non-obligatory service is not as stringent as the evidence required for a stage service. It is not necessary to prove that it is necessary—it is enough to prove that it is desirable," said Mr. S. W. Nelson, acting chairman of the East Midland Licensing Authority, at Nottingham, last week.
Granting licences to the Midland General Omnibus Co., Ltd., and Mansfield District Traction Co., to operate extended tours from Ilkeston. Heanor and Sutton-in-Ashfield, Mr. Nelson said that the Authority placed the public interest first. " It is not the interest of the companies that weighs with us as much as reasonable facilities to the public. We have formed an opinion that the facilities are not available at the moment," he said.
OPERATORS "PICK AND CHOOSE"
CCUSING local bus operators of I-I attempting to "pick and choose" the services they would operate, dir. V. Lockwood, at a meeting of the Thorne Rural District Council, contended that so long as bus companies' services were paying overall they should not refuse to operate on less profitable routes.
The meeting decided that a deputation should meet Doncaster Transport Committee. If that proved .unsuccessful, they would refer the matter to the Yorkshire Licensing Authority.
HAULAGE ADMINISTRATION
(IF value to both students preparing 1.--/ for Institute of Transport examinations and executives of haulage undertakings, a new edition of "Goods Vehicle Operation," by C. S. Dunbar, has been published by 'We and Sons, Ltd., Dorset House, Stamford Street, London, S.E.1, at 12s. 6d. (postage 5d. extra).
Written in a lucid style, the book has been enlarged and brought into line with the provisions of the Transport Act, 1953. A special chapter has been added on the operation of haulage services in colonial and other overseas territories.
All aspects of providing a transport service are dealt with, including costing and assessment of rates, claims, staff management and depot layout. Whilst the professional carrier is the main subject of the book, there is a chapter on the problems of the ancillary user.
BUSINESS AS USUAL
A LTHOUGH the offices of Messrs. I-1 Richard Berry and Son, Birmingham, 6, were completely gutted by fire recently, there has been no dislocation
of service to customers. All records were lost, but were replaced with duplicates held within the Brockhouse orgrnization.Telephone lines were due to be restored this week.