Finance Houses to be Made Known?
31st July 1953
Page 33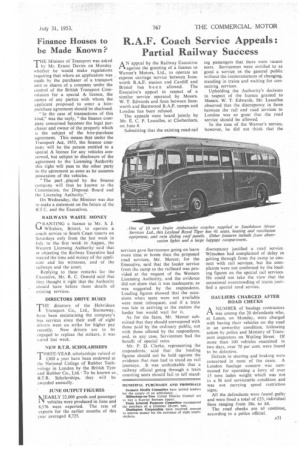 Page 33, 31st July 1953 —
Finance Houses to be Made Known?
Close
THE Minister of Transport was asked by Mr. Ernest Davies on Monday whether he would make regulations requiring that where an application was made by the purchaser of a transport unit or shares of a company under the control of the British Transport Commission for a special A licence, the names of any parties with whom the applicant proposed to enter a hirepurchase agreement should be disclosed.
"In the case of transactions of this kind," was the reply, "the finance company concerned becomes the legal purchaser and owner of the property which is the subject of the hire-purchase agreement. This means that under the Transport Act, 1953, the finance company will be the person entitled to a special A licence for any vehicles concerned, but subject to disclosure of the agreement to the Licensing Authority this right will pass to the other party to the agreement as soon as he assumes possession of the vehicles.
" The part , played by the finance company will thus be known to the Commission, the Disposal . Board and the Licensing Authority."
On Wednesday, the Minister was due to make a statement on the future of the B.T.C. and the Executives. .
RAILWAYS WASTE MONEY GRANTING a licence to' Mr. S. J. Wiltshire, Bristol, to operate a coach service to South Coast resorts on Saturdays only from the last week in July to the first week in August,, the Western Licensing Authority said that in objecting the Railway Executive had wasted the time and money of the applicant and his witnesses, and of the railways and the court.
Replying to these remarks for the Executive, Mr. R. C. Oswald said that they thought it right that the Authority should have .before them details of existing services.
DIRECTORS DRIVE BUSES THE directors of the Hebridean ▪ Transport Co., Ltd., Stornoway,
have been maintaining the company's bus services since their staff of eight drivers went on strike for higher pay recently. New drivers are to be engaged to replace the strikers, it was slated last week.
NEW B.T.R. SCHOLARSHIPS T H REE-YEAR scholarships valued at ▪ £300 a year have been endowed at
the National College of Rubber Technology in London by the British Tyre and Rubber Co., Ltd. • To be known as B.T.R. Scholarships, they will be awarded annually.
JUNE OUTPUT FIGURES
NEARLY 22,000 goods and passenger vehicles were produced in June and 8,576 were exported. The rate of exports for the earlier months of this year averaged 8,725.