Lightweight 'Body For Pig Truck
31st July 1953
Page 32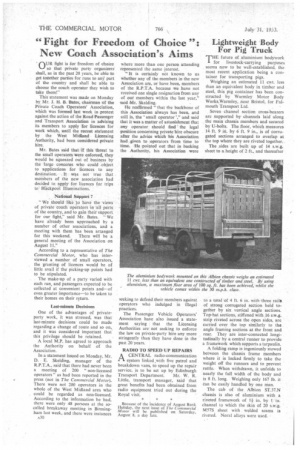 Page 32, 31st July 1953 —
Lightweight 'Body For Pig Truck
Close
THE future of aluminium bodywork for livestock-carrying purposes seems now to be well-established, the most recent application being a container for transporting pigs.
Weighing an estimated 11 cwt. less than an equivalent body in timber and steel, this pig container has been constructed by Warmley Motor Body Works,Warmley, near Bristol, for Falmouth Transport Ltd.
Seven channel section cross-bearers are supported by channels laid along the main chassis members and secured by U-bolts. The floor, which measures 14 ft. 9 in. by 6 ft. 9 in., is of corrugated sections arranged to overlap at the top where they are riveted together.
The .sides are built up of 14 s.w.g. sheet to a height of 2 ft., and thereafter to a total of 4 ft. 6 in. with three rails of strong corrugated section held together by six vertical angle sections. Top-hat sections, stiffened with 16 s:w.g. strip riveted across the open sides, are carried over the top similarly to the angle framing sections at the front and rear. They are inter-connected longitudinally by a central runner to provide a framework which supports a tarpaulin.
A folding ramp is ingeniously stowed between the chassis frame members where it is locked firmly to take the weight off the runners and to prevent rattle, When withdrawn, it unfolds to nearly the full width of the body and is 8 ft. long. Weighing only 167 lb. it can be easily handled by one man.
The cab of the Albion ST.37.N chassis is also of aluminium with a riveted framework of 11 in. by 1 in. channel to which the skin of 20 s.w.g. M575 sheet with welded seams is riveted. Noral alloys were used.