"Fight for Freedom of Choice ":
31st July 1953
Page 32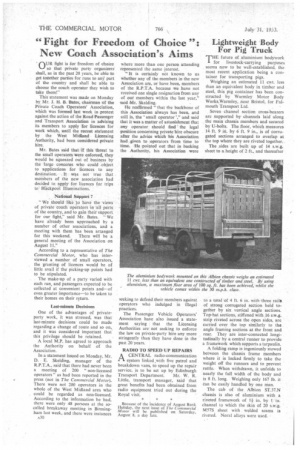 Page 32, 31st July 1953 —
"Fight for Freedom of Choice ":
Close
New Coach Association's Aims
' OUR fight is for freedom of choice so that private party organizers shall, as in the past 20 years, be able to get together parties for runs to an part of the country and shall be able to choose the coach operator they wish to take them!"
This statement was made on Monday by Mr. J. El. B. Bates, chairman of the Private Coach Operators' Association, which was formed last week in protest against the action of the Road Passenger and Transport Association in advising its members to apply for licences for work which, until the recent statement by the West Midland Licensing Authority, had been considered private hire.
Mr. Bates said that if this threat to the small operators were enforced, they would be squeezed out of business by the large c,onecres who could object to applications for licences to any destination. . It was not true that members of the new association had decided to apply for licences for trips to Blackpool Illuminations.
Nailiomil Support ?
"We should like •lo have the views of private coach operators in all parts of the country, and to gain their support for our fight," said Mr. Bates. "We have already been approached by a number of other associations, and a meeting with them has been arranged
for this weekend. There will be a general meeting of the Association on August 11."
According to a representative of The Commercial Motor, who has interviewed a number of small operators, the granting of licences would be of little avail if the picking-up points had to be stipulated.
. The make-up of a party varied with each run, and passengers expected to be collected at convenient points and—of even greater importance—to be taken to their homes on their return.
Last-minute Decisions One of the advantages of privateparty work, it was stressed, was that last-minute decisions could be made regarding a change of route and so on, and it was considered important that this privilege should be retained.
A local M.P. has agreed to approach the Authority on behalf of the Association.
In a statement issued on Monday, Mr. D. E. Skelding, manager of the R.P.T.A., said that there had never been a meeting of 200 "non-licensed operators" as had been reported in the press (not in The Commercial Motor). There were not 200 operators in the whole of the West Midland area who could be regarded as non-licensed. According to the information he had, there were only 48 persons at the socalled breakaway meeting in Birmingham last week, and there were instances A30 where more than one person attending represented the same interest.
"It is certainly not known to us whether any of the members in the new Association are, or have been, members of the R.P.T.A. because we have not received one single resignation from any of our members within the last year," said Mr. Skelding.
He reaffirmed "that the backbone of this Association always has been, and still is, the 'small operator '," and said that it was a matter of astonishment that any operator should find the legal position concerning private hire obscure after the advice which his Association had given to operators from time to time. He pointed out that in backing the Authority. his Association were seeking to defend their members against operators who indulged in illegal practices.
The Passenger Vehicle Operators' Association have also issued a statement saying that the Licensing Authorities are not seeking to enforce the law on private-party hire any more stringently than they have done in the past 20 years.
RADIO TO SPEED UP REPAIRS
ACENTRAL radio-communication system linked ,with five patrol and breakdown vans, to speed up the repair service, is to be set up by Edinburgh
Transport Department. Mr. W. R. Little, transport manager, said that great benefits had been obtained from radio equipment tried out during the Royal visit.
Because of the incidence of August Bank Holiday, the next issue of The Commercial Motor will be published on Saturday, August 8, a day late.