Chamber Regret R.H.E. Break-up
31st July 1953
Page 29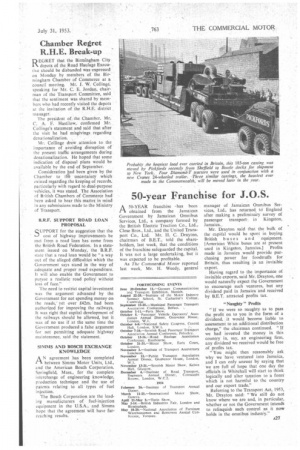 Page 29, 31st July 1953 —
Chamber Regret R.H.E. Break-up
Close
REGRET that the Birmingham City depots of the Road Haulage Executive should be disbanded was expressed on Monday by members of the Birmingham Chamber of Commerce at a council meeting. Mr. J. W. Collinge, speaking for Mr. C. E Jordan, chairman of the Transport Committee, said that the sentiment was shared by members who had recently visited the depots at the invitation of the R.H.E. district manager.
The president of. the Chamber, Mr. C. A. F. Hastilow, confirmed Mr. Collinge's statement and said that after the visit he had misgivings regarding denationalization.
Mr. Collinge drew attention to the importance of avoiding disruption of the present traffic arrangements during denationalization. He hoped that some indication of disposal plans would be available by the end of September.
Consideration bad been given by the Chamber to th1 uncertainty which existed regarding the keeping of records. particularly with regard to dual-purpose vehicles, it was stated. The Association of British Chambers of Commerce had been asked to bear this matter in mind in any submissions made to the Ministry of Transport.
B.R.F. SUPPORT ROAD LOAN PROPOSAL
QUPPORT for the suggestion that the cost of highway improvements be met from a road loan has come from the British Road Federation. In a statement issued on Monday, the B.R.F. state that a road loan would be " a way out of the alleged difficultici which the Government says stand in the way of adequate and proper road expenditure. It will also enable the Government to pursue a realistic road policy without
loss of face." "
The need to restrict capital investment was the argument advanced by the Government for not spending money on the roads,yet over £42m, had been authorized for improving the railways. It was right that capital development of the railways should be allowed, but it s of no use if at the same time the Government produced a false argument for not permitting adequate highway maintenance, said the statement.
SIMMS AND BOSCH EXCHANGE KNOWLEDGE
AN agreement has been completed between Simms Motor Units, Ltd., and the American Bosch Corporation, Springfield, Mass., for the complete interchange of engineering knowledge, production technique and the use of patents relating to all types of fuel injection.
The Bosch Corporation are the leading manufacturers of fuel-injection equipment in the U.S.A., and Simms hope that the agreement will have farreaching results.