" C.M." Editorial "Scandalous " WH EN some 60 members of the
31st July 1953
Page 28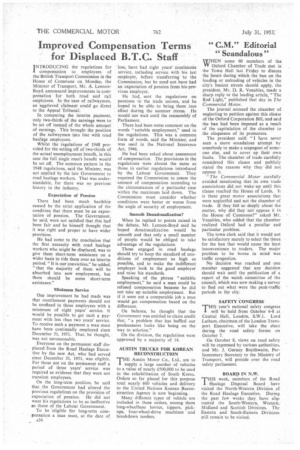 Page 28, 31st July 1953 —
" C.M." Editorial "Scandalous " WH EN some 60 members of the
Close
Keywords :
Oxford Chamber of Trade met in the Town Hall last Friday to discuss the hours during which the ban on the loading or unloading of vehicles in the city's busiest streets should apply, the president, Mr. D. R. Venables, made a sharp reply to the leading article, "The Red Light," published that day in The Commercial Motor.
The journal accused the chamber of neglecting to petition against this clause of the Oxford Corporation Bill, and said the ban had been imposed as a result of the capitulation of the chamber to the eloquence of its promoters.
The president said: "I have never seen a more scandalous attempt by somebody to make a scapegoat of someone else, and to cover up their own faults. The chamber of trade carefully considered this clause and publicly stated the reasons why they did not oppose it.
"The Commercial Motor carefully avoided mentioning that its own trade associations did not wake up until this clause reached the House of Lords. It is these great motor associations that were neglectful and not the chamber of trade, If they felt so deeply about the matter, why did they not oppose it in the House of Commons?" asked Mr. Venables, who added that the chamber realized Oxford had a peculiar and particular problem.
The town clerk said that it would not be satisfactory merely to select the times for the ban that would cause the least inconvenience to traders. The major problem to be borne in mind was traffic congestion.
No -decision was reached and one member suggested that any decision should wait until the publication of a report of the watch committee of the council, which was now making a survey to find out what were the peak-traffic periods in the city.
SAFETY CONGRESS
THIS year's national safety congress I will be held from October 6-8 at Central Hall, London, S.W.1. Lord Latham, chairman of the London Transport Executive, will take the chair during the road safety forum on October 7.
On October 8, views on road safety will be expressed by various authorities, and Mr. J. Gurney Braithwaite, Parliamentary Secretary to the Ministry of Transport, will preside over the road safety parliament.
BOARD IN N.W.
THIS week, members of the Road Haulage Disposal Board have visited the North-Western Division of the Road Haulage Executive. During the past few weeks they have also toured the South-Western, Western, Midland and Scottish Divisions. The Eastern and South-Eastern Divisions still remain to be visited.