One Hears
31st July 1953
Page 27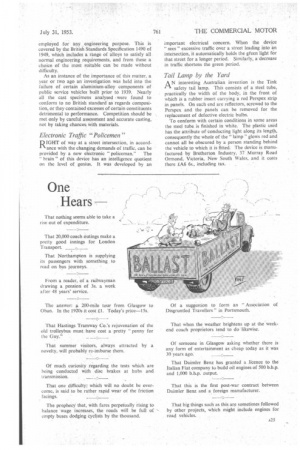 Page 27, 31st July 1953 —
One Hears
Close
That nothing seems able to take a rise out of expenditure.
That 20,000 coach outings make a pretty good innings for London Transport.
That Northampton is supplying its passengers with something to read on bus journeys.
From a reader, of a railwayman drawing a pension of 3s. a week after 48 years' service.
The answer: a. 200-mile tour from Glasgow to Oban. In the 1920s it cost £1. Today's price-15s.
That Hastings Tramway Co.'s rejuvenation of the old trolleybus must have cost a pretty " penny for the Guy."
That summer visitors, always attracted by a novelty, will probably rc-imburse them.
Of much curiosity regarding the tests which are being conducted with disc brakes at hubs and transmission.
That one difficulty: which will no doubt be overcome, is said to be rather rapid wear of the friction facings.
The prophecy that, with fares perpetually rising to balance wage increases, the roads will be full •of empty buses dodging cyclists by the thousand. Of a suggestion to form an " Association of Disgruntled Travellers" in Portsmouth.
That when the weather brightens up at the weekend coach proprietors tend to do likewise.
Of someone in Glasgow asking whether there is any form of entertainment as cheap today as it was 30 years ago.
That Daimler Benz has granted a licence to the Italian Fiat company to build oil engines of 500 b.h.p. and 1,000 b.h.p. output.
That this is the first post-war contract between Daimler Benz and a foreign manufacturer.
That big things such as this are sometimes followed \ by other projects, which might include engines for road vehicles.