Passing Comments
31st July 1953
Page 26
Page 27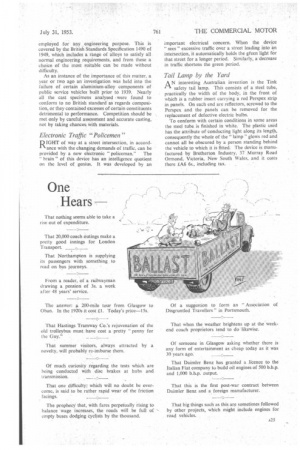 Page 26, 31st July 1953 —
Passing Comments
Close
Keywords :
Birds in a Bus
ABUS which holds 500 passengers would seem to
be impossible, but it depends upon who they are. An old double-decker in the Aylsham region of Norfolk is being employed as a hostel for young turkeys, the upper deck being the "infants wards?' There, for the first fortnight of their lives, the poults cluster around heated hovers on wire floors. Following this they move downstairs to cooler quarters for a further two weeks before being given the freedom of a sunny verandah built as an extension.
There are Two Sides . . .
WRITING in the Sheffield Telegraph. a corre
spondent stated that buses had a bad accident record compared with that of trams, and that "casualties have invariably increased after removal of tramways."
A24 In the neighbouring town of Leeds, Aid. J. Rafferty, chairman of the transport committee, was announcing almost simultaneously that trams travelling 19.75m. miles were involved in 116 accidents, whereas buses covering over 22m. miles had only 45 mishaps.
An Appeal for Quality
A N interesting appeal against sacrificing quality for " cheapness in connection with the production of light-alloy castings has been made by The Light Metal Founders' Association. They point out that in building aircraft, lightness and strength were the first requisites. Here there is no room for approximation so that the materials are described and defined by standard specifications. Other uses of light metals, however, do not, as a whole, call for the highest strength-weight ratio. It is nonetheless essential to make sure of consistent quality in materials to be
employed for any engineering purpose. This is covered by the British Standards Specification 1490 of 1949, which includes a range of alloys to satisfy all normal engineering requirements, and from these a choice of the most suitable can be made without difficulty.
As an instance of the importance of this matter, a year or two ago an investigation was held into the failure of certain aluminium-alloy components of public service vehicles built prior to 1939. Nearly all the cast specimens analysed , were found to conform to no British standard as regards composition, or they contained excesses of certain constituents detrimental to performance. Competition should be met only by careful assessment and accurate casting, not by taking chances, with materials.
Electronic Traffic "Policemen"
Rminof way at a street intersection, in accord' ance with the changing demands of traffic, can be provided by a new electronic "policeman." The "
brain" of this device has an intelligence quotient on the level of genius. It was developed by an important electrical concern. When the device " sees" excessive traffic over a street leading into an intersection, it automatically holds the gteen light for that street for a longer period. Similarly, a decrease in traffic shortens the green period.
Tail Lamp by the Yard
AN interesting Australian invention is the Tink safety tail lamp. This consists of a steel tube, practically the width of the body, in the front of which is a rubber insert carrying a red Perspex strip in panels. On each end are reflectors, screwed to the Perspex and the panels can be removed for the replacement of defective electric bulbs.
To conform with certain conditions in some areas the steel tube is finished in white. The plastic used has the attribute of conducting light along its length, consequently the whole of the " lamp" glows red and cannot all be obscured by a person standing behind the vehicle to which it is fitted. The device is manufactured by Bretherton Industry, 37 Mtirray Road Ormond, Victoria, New South Wales, and it costs there £A6 6s., including tax. _