Nestle improves on mileage
31st january 2013
Page 8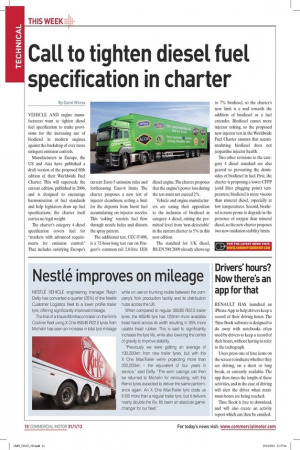 Page 8, 31st january 2013 —
Nestle improves on mileage
Close
NESTLE VEHICLE engineering manager Ralph Deity has converted a quarter (25%) of the Nestle Customer Logistics fleet to a lower profile trailer tyre, offering significantly improved mileage.
The trial of a triaxle Montracon trailer on the firm's Cooliner fleet using X One 455/45 R22.5 tyres from Michelin has seen an increase in total tyre mileage while on use on trunking routes between the company's York production facility and its distribution hubs across the UK.
When compared to regular 385/65 R22.5 trailer tyres, the 455/45 tyre has 120mm more available tread band across its width resulting in 35% more usable tread rubber. This is said to significantly increase the tyre life, while also lowering the centre of gravity to improve stability.
"Previously we were getting an average of 130,000km from new trailer tyres, but with the X One MaxiTrailer we're projecting more than 200,000km — the equivalent of four years in service," said Defty. "The worn casings can then be returned to Michelin for remoulding, with the Remix tyres expected to deliver the same performance again. An X One MaxiTrailer tyre costs us £100 more than a regular trailer tyre, but it delivers nearly double the life. It's been an absolute gamechanger for our fleet."