Tanker drivers set for specialist training boost
31st january 2013
Page 7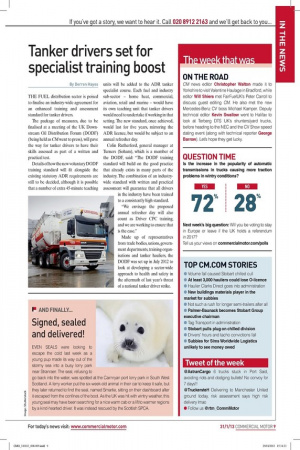 Page 7, 31st january 2013 —
Tanker drivers set for specialist training boost
Close
By Derren Hayes THE FUEL distribution sector is poised to finalise an industry-wide agreement for an enhanced training and assessment standard for tanker drivers.
The package of measures, due to be finalised at a meeting of the UK Downstream Oil Distribution Forum (DODF) (being held as CMwent to press), will pave the way for tanker drivers to have their skills assessed as part of a written and practical test.
Details of how the new voluntary DODF training standard will fit alongside the existing statutory ADR requirements are still to be decided, although it is possible that a number of extra 45-minute teaching units will be added to the ADR tanker specialist course. Each fuel and industry sub-sector — home heat, commercial, aviation, retail and marine — would have its own teaching unit that tanker drivers would need to undertake if working in that setting. The new standard, once achieved, would last for five years, mirroring the ADR licence, but would be subject to an annual refresher day.
Colin Rutherford, general manager at Turners (Soham), which is a member of the DODF, said: "The DODF training standard will build on the good practice that already exists in many parts of the industry. The combination of an industrywide standard with written and practical assessment will guarantee that all drivers in the industry have been trained to a consistently high standard.
"We envisage the proposed annual refresher day will also count as Driver CPC training, and we are working to ensure that is the case."
Made up of representatives from trade bodies, unions, government departments, training organisations and tanker hauliers, the DODF was set up in July 2012 to look at developing a sector-wide approach to health and safety in the aftermath of last year's threat of a national tanker driver strike.