Volvo invests in China trucks
31st january 2013
Page 4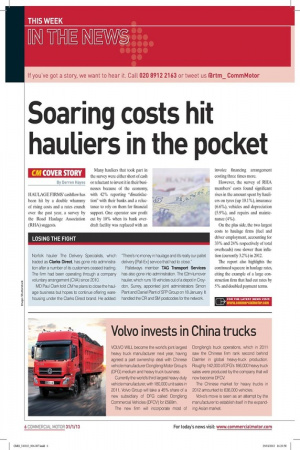 Page 4, 31st january 2013 —
Volvo invests in China trucks
Close
VOLVO WILL become the world's joint largest heavy truck manufacturer next year, having agreed a part ownership deal with Chinese vehicle manufacturer Dongfeng Motor Group's (DFG) medium and heavy truck business.
Currently the world's third largest heavy-duty vehicle manufacturer, with 180,000 unit sales in 2011, Volvo Group will take a 45% share of a new subsidiary of DFG called Dongfeng Commercial Vehicles (DFCV) for £569m.
The new firm will incorporate most of Dongfeng's truck operations, which in 2011 saw the Chinese firm rank second behind Daimler in global heavy-truck production. Roughly 142,000 of DFG's 186,000 heavy truck sales were produced by the company that will now become DFCV.
The Chinese market for heavy trucks in 2012 amounted to 636,000 vehicles.
Volvo's move is seen as an attempt by the manufacturer to establish itself in the expanding Asian market.