Top accreditation for HRVS
31st january 2013
Page 36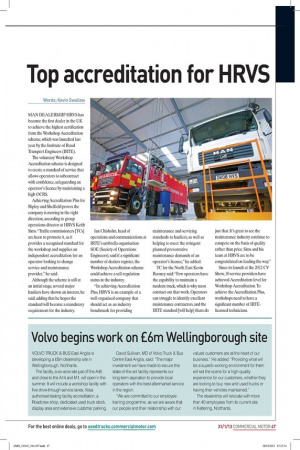 Page 36, 31st january 2013 —
Top accreditation for HRVS
Close
Words: Kevin Swallow MAN DEALERSHIP IIRVS has become the first dealer in the UK to achieve the highest certification from the Workshop Accreditation scheme, which was launched last year by the Institute of Road Transport Engineers (IRTE).
The voluntary Workshop Accreditation scheme is designed to create a standard of service that allows operators to subcontract with confidence, safeguarding an operator's licence by maintaining a high OCRS.
Achieving Accreditation Plus for Ripley and Sheffield proves the company is moving in the right direction, according to group operations director at IIRVS Keith Sims. "Traffic commissioners [TCs] are keen to promote it, as it provides a recognised standard for the workshop and supplies an independent accreditation for an operator looking to change service and maintenance provider," he said.
Although the scheme is still at an initial stage, several major hauliers have shown an interest, he said, adding that he hopes the standard will become a mandatory requirement for the industry.
Ian Chisholm, head of operations and communications at IRTE's umbrella organisation SOE (Society of Operations Engineers), said if a significant number of dealers register, the Workshop Accreditation scheme could achieve a self-regulation status in the industry.
"In achieving Accreditation Plus, IIRVS is an example of a well-organised company that should act as an industry benchmark for providing maintenance and servicing standards to hauliers, as well as helping to meet the stringent planned preventative maintenance demands of an operator's licence," he added.
TC for the North East Kevin Rooney said: "Few operators have the capability to maintain a modern truck, which is why most contract out that work. Operators can struggle to identify excellent maintenance contractors, and the IRTE standard [will help] them do just that. It's great to see the maintenance industry continue to compete on the basis of quality rather than price. Sims and his team at IIRVS are to be congratulated on leading the way."
Since its launch at the 2012 CV Show, 10 service providers have achieved Accreditation level for Workshop Accreditation. To achieve the Accreditation Plus, workshops need to have a significant number of IRTElicensed technicians.