Face the facts
31st january 2013
Page 29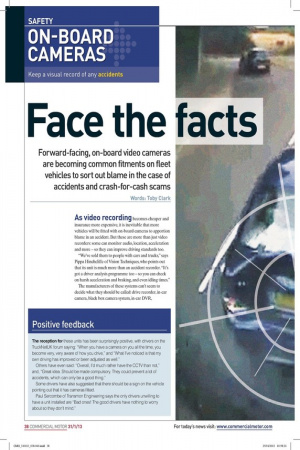 Page 30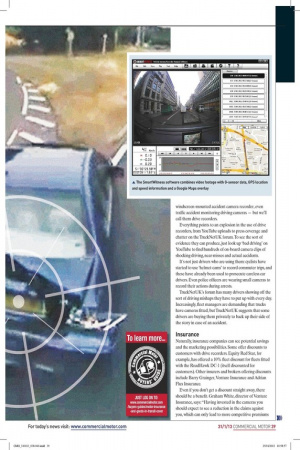 Page 31
Page 32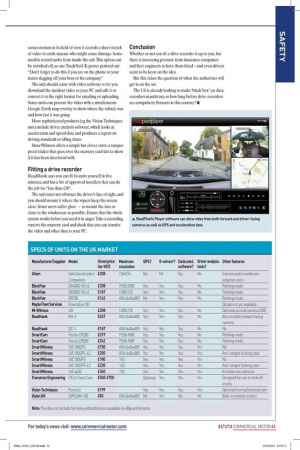 Page 29, 31st january 2013 —
Face the facts
Close
Forward-facing, on-board video cameras are becoming common fitments on fleet vehicles to sort out blame in the case of accidents and crash-for-cash scams Words: Toby Clark As video recording becomes cheaper and insurance more expensive, it is inevitable that more vehicles will be fitted with on-board cameras to apportion blame in an accident. But these are more than just video recorders: some can monitor audio, location, acceleration and more — so they can improve driving standards too.
"We've sold them to people with cars and trucks," says Pippa Hinchcliffe of Vision Techniques, who points out that its unit is much more than an accident recorder. "It's got a driver analysis programme too — so you can check on harsh acceleration and braking, and even idling times."
The manufacturers of these systems can't seem to decide what they should be called: drive recorder, in-car camera, black box camera system, in-car DVR, windscreen-mounted accident camera recorder, even traffic accident monitoring driving cameras — but we'll call them drive recorders.
Everything points to an explosion in the use of drive recorders, from YouTube uploads to press coverage and chatter on the TruckNetUK forum. To see the sort of evidence they can produce, just look up 'bad driving' on YouTube to find hundreds of on-board camera clips of shocking driving, near-misses and actual accidents.
It's not just drivers who are using them: cyclists have started to use 'helmet-cams' to record commuter trips, and these have already been used to prosecute careless car drivers. Even police officers are wearing small cameras to record their actions during arrests.
TruckNetUK's forum has many drivers showing off the sort of driving mishaps they have to put up with every day. Increasingly, fleet managers are demanding that trucks have cameras fitted, but TruckNetUK suggests that some drivers are buying them privately to back up their side of the story in case of an accident.
Insurance Naturally, insurance companies can see potential savings and the marketing possibilities. Some offer discounts to customers with drive recorders. Equity Red Star, for example, has offered a 10% fleet discount for fleets fitted with the RoadHawk DC-1 (itself discounted for customers). Other insurers and brokers offering discounts include Barry Grainger, Venture Insurance and Adrian Flux Insurance.
Even if you don't get a discount straight away, there should be a benefit. Graham White, director of Venture Insurance, says: "Having invested in the cameras you should expect to see a reduction in the claims against you, which can only lead to more competitive premiums in the future."
One of the most high-profile offers is from Towergate Insurance: a free RoadHawk drive recorder with single truck policies. The company says that footage from one unit meant that it could defend a roundabout collision and save more than £22,000.
Systems on the market There are many different types of forward-facing cameras on the UK market. First, there are the straightforward drive recorders, most with video, audio, GPS and G-sensor (see table). These tend to cost £150-£250 excluding fitting — with discounts for larger fleets — and come from firms such as RoadHawk, Vision Techniques, BlackVue and SmartWitness.
Units such as the Mi-Witness HD can add a second camera to record a simultaneous view of the driver or the side of the vehicle. Some (such as the RoadHawk RH-2) have a second, driver-facing camera already fitted.
The ultimate solution for more than one camera is an on-board DVR (digital video recorder) from EverFocus or ProEdge. This can record video from up to 12 cameras mounted around a vehicle, plus GPS data. However, these are more suited to passenger-carrying and high-security vehicles. At the other end of the market are cheap on-board cameras from eBay or Amazon some video-only units cost less than £20, while others with GPS and G-sensors are around the £100 mark. Some TruckNetUK users have reported good results from these, while others insist that the more mainstream products are much better.
Other users have tried 'hero-cams' (designed for sports use) as journey recorders, but without GPS or accelerometers their application is limited.
Technical issues Video quality varies, from low-resolution QVGA (320x240) to Full HD (1920x1080), and at frame rates from five frames per second (fps) to 30fps or more. The higher these numbers, the clearer the picture.
As one reviewer puts it: "You've a much better chance of catching the reg number of a car after a hit and run." But lens quality and careful installation are just as important, and high-resolution video inevitably uses more memory.
Most devices record on a continuous loop, writing over older recordings as newer video is filmed — but this means that you must download footage of an incident promptly. Some save a stretch of recordings around an incident (ie, 20 seconds before and 20 seconds after) if you press a button, or if they detect harsh acceleration or braking.
The most common memory cards are SD or micro SD cards. Both are cheap and easily available, but while a regular Class 4 card may work, a pricier Class 10 card might be needed to sustain a higher recording rate.
All but the cheapest units include GPS-based tracking, checking location and speed every few seconds, and record this data to the same memory card used to record video.
Many units add a G-sensor — a three-axis accelerometer, which senses acceleration in all directions and detects the sudden motion of an impact or an emergency stop.
Some use this to trigger a recording, saving the video from the seconds leading up to the emergency; the threshold is usually adjustable, but some users report that their units are difficult to adjust, so that they record the slightest sharp braking.
Some models take this further with parking mode: when the vehicle is left, the camera remains on, and if it senses motion in its field of view it records a short stretch of video to catch anyone who might cause damage. Some models record audio from inside the cab. This option can be switched off, as one TruckNetUK poster pointed out: "Don't forget to do this if you are on the phone to your mates slagging off your boss or his company."
The unit should come with video software to let you download the incident video to your PC and edit it or convert it to the right format for emailing or uploading. Some units can present the video with a simultaneous Google Earth map overlay to show where the vehicle was and how fast it was going.
More sophisticated products (eg the Vision Techniques unit) include driver analysis software, which looks at acceleration and speed data and produces a report on driving standards or idling times.
SmartWitness offers a simple but clever extra: a tamperproof sticker that goes over the memory card slot to show if it has been interfered with.
Fitting a drive recorder RoadHawk says you can fit its units yourself in five minutes, and has a list of approved installers that can do the job for "less than BO".
The unit must not obstruct the driver's line of sight, and you should mount it where the wipers keep the screen clear. Some users suffer glare — so mount the lens as close to the windscreen as possible. Ensure that the whole system works before you need it in anger. Take a recording, remove the memory card and check that you can transfer the video and other data to your PC.
Conclusion Whether or not you fit a drive recorder is up to you, but there is increasing pressure from insurance companies and fleet engineers to have them fitted — and even drivers seem to be keen on the idea.
But this raises the question of when the authorities will get in on the act.
The US is already looking to make 'black box' car data recorders mandatory, so how long before drive recorders are compulsory fitments in this country? • Positive feedback The reception for these units has been surprisingly positive, with drivers on the TruckNetUK forum saying: "When you have a camera on you all the time, you become very, very aware of how you drive," and "What I've noticed is that my own driving has improved or been adjusted as well."
Others have even said: "Overall, I'd much rather have the CCTV than not," and, "Great idea. Should be made compulsory. They could prevent a lot of accidents, which can only be a good thing."
Some drivers have also suggested that there should be a sign on the vehicle pointing out that it has cameras fitted.
Paul Sercombe of Transmon Engineering says the only drivers unwilling to have a unit installed are "Bad ones! The good drivers have nothing to worry about so they don't mind."
RoadPixel RoadPixel produces several models of drive recorder, and chief technical officer Lawson Noble says they address the shortcomings of other products. "We tested around 30 different models before we selected one to sell — we think we've found a good supplier, who offers both the quality and the features. Our main market is commercial operators, and we wouldn't sell cheaper models to fleet operators." Noble says that RoadPixel's Defender-Pro units are the only ones it has tested that give 100% 'clean' video and GPS data — most other units send out occasional glitches, which could be crucial in a court case.
Noble also reckons that it is a good idea to set your drive recorder to record continuously, as these units are not always reliably triggered by their G-sensors. He recommends that customers use approved memory cards, which can cope with a sustained data stream: "It's not just a burst of data, as with a consumer camera." RoadPixel supplies a suitable 32GB SD card — big enough to record eight hours of continuous HD video, audio, GPS and G-sensor data — for £59 (inc VAT).
SPECS OF UNITS ON THE UK MARKET Manufacturer/Supplier Model Street price lex-VAT) Maximum resolution GPS?
0-sensor? Dedicated software?
Driver analysis tools?
Other features 4Kam SafeCam Accident Companion £208 720x578 No No No No Camera and recorder are separate units BlackVue DR400G HD v2 £208 1920x1080 Yes Yes Yes No Parking mode BlackVue DR380G HD v2 £167 1280x720 Yes Yes Yes No Parking mode BlackVue DR350 £142 VGA (840x480] No Yes Yes No Parking mode Maple Fleet Services DriversEye HD Details not yet available.
Mi-Witness HD £208 1280x720 Yes Yes Yes No Optional second camera (GO] Road Hawk RH-2 £247 VGA (840x480] Yes Yes Yes No Also includes inward-facing camera Road Hawk DC-1 £167 VGA (840x480] Yes Yes Yes No No SmartCam FineVu CR300 £217 1920x1080 Yes Yes Yes No Parking mode SmartCam FineVu CR500 £242 1920x1080 Yes Yes Yes No Parking mode SmartWitness SVC100GPS £150 VGA (840x480] Yes Yes Yes Yes No SmartWitness SVC1000PS-LC £200 VGA (840x480] Yes Yes Yes Yes Anti-tamper locking case SmartWitness SVC150GPS £180 'HD' Yes Yes Yes Yes No SmartWitness SVC150GPS-LC £230 'HD' Yes Yes Yes Yes Anti-tamper locking case SmartWitness SVC482G £360 'HD' Yes Yes Yes Yes Includes two cameras Transmon Engineering iTEch Trans Cam £500-000 Optional Yes Yes Yes Designed for use on fork-lift trucks Vision Techniques Pointer2 £199 Yes Yes Yes Yes Optional internaVexternal cam Vision UK DVRCAM-100 £83 VGA (840x480] No Yes No No Built-in monitor screen