tong run Right in the
31st january 2013
Page 26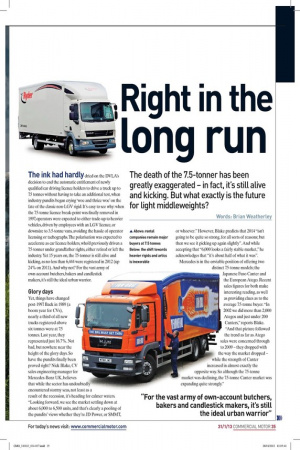 Page 27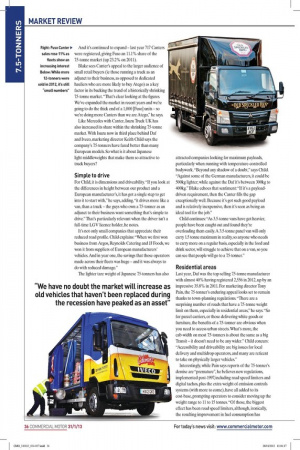 Page 28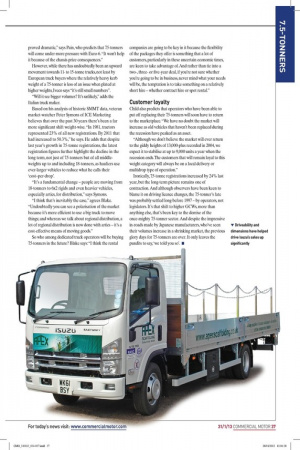 Page 26, 31st january 2013 —
tong run Right in the
Close
The death of the 7.5-tonner has been greatly exaggerated - in fact, ifs still alive and kicking. But what exactly is the future for light middleweights'?
Words: Brian Weathertey The ink had y hardl .., dried on the DVIA's decision to end the automatic entitlement of newly qualified car driving licence holders to drive a truck up to 75 tonnes without having to take an additional test, when industry pundits began crying 'woe and thrice woe' on the fate of the classic non-LGV rigid. It's easy to see why: when the 75-tonne licence break-point was finally removed in 1997, operators were expected to either trade-up to heavier vehicles, driven by employees with an LGV licence, or downsize to 3.5-tonne vans, avoiding the hassle of operator licensing or tachographs. The polarisation was expected to accelerate as car licence holders, who'd previously driven a 7.5-tonner under grandfather rights, either retired or left the industry. Yet 15 years on, the 75-tonner is still alive and kicking, as no-less than 6,444 were registered in 2012 (up 24% on 2011). And why not? For the vast army of own-account butchers, bakers and candlestick makers, it's still the ideal urban warrior.
Glory days Yet, things have changed post-1997 Back in 1989 (a boom year for CVs), nearly a third of all new trucks registered above six tonnes were at 7.5 tonnes. Last year, they represented just 16.7%. Not bad, but nowhere near the height of the glory days. So have the pundits finally been proved right? Nick Blake, CV sales engineering manager for Mercedes-Benz UK, believes that while the sector has undoubtedly encountered stormy seas, not least as a result of the recession, it's heading for calmer waters. "Looking forward, we see the market settling down at about 6,000 to 6,500 units, and that's clearly a pooling of the pundits' views whether they're JD Power, or SMMT, or whoever." However, Blake predicts that 2014 "isn't going to be quite so strong, for all sorts of reasons; but then we see it picking up again slightly". And while accepting that "6,000 looks a fairly stable market," he acknowledges that "it's about half of what it was".
Mercedes is in the enviable position of offering two distinct 75-tonne models; the Japanese Fuso Canter and the European Atego. Recent sales figures for both make interesting reading, as well as providing clues as to the average 7.5-tonne buyer. "In 2002 we did more than 2,000 Ategos and just under 200 Canters," reports Blake. "And that picture followed the trend as far as Atego sales were concerned through to 2009— they dropped with the way the market dropped — while the strength of Canter increased in almost exactly the opposite way. So although the 75-tonne market was declining, the 7.5-tonne Canter market was expanding quite strongly."
And it's continued to expand — last year 717 Canters were registered, giving Fuso an 11.1% share of the 7.5-tonne market (up 23.2% on 2011).
Blake sees Canter's appeal to the larger audience of small retail buyers (ie those running a truck as an adjunct to their business, as opposed to dedicated hauliers who are more likely to buy Atego) as a key factor in its bucking the trend of a historically shrinking 7.5-tonne market. "That's clear looking at the figures. We've expanded the market in recent years and we're going to do the thick end of a 1,000 [Fuso] units — so we're doing more Canters than we are Atego," he says.
Like Mercedes with Canter, Isuzu Truck UK has also increased its share within the shrinking 7.5-tonne market. With Isuzu now in third place behind Daf and Iveco, marketing director Keith Child says the company's 7.5-tonners have fared better than many European models. So what is it about Japanese light middleweights that make them so attractive to truck buyers?
Simple to drive For Child, it is dimensions and driveability. "If you look at the differences in height between our product and a European manufacturer's, it has got a single step to get into it to start with," he says, adding, "it drives more like a van, than a truck — the guys who own a 7.5-tonner as an adjunct to their business want something that's simple to drive." That's particularly relevant when the driver isn't a full-time LGV licence holder, he notes.
It's not only small companies that appreciate their reduced road profile. Child explains: "When we first won business from Argos, Reynolds Catering and JJ Foods, we won it from suppliers of European manufacturers' vehicles. And in year one, the savings that those operators made across their fleets was huge — and it was always to do with reduced damage."
The lighter tare weight of Japanese 7.5-tonners has also attracted companies looking for maximum payloads, particularly when running with temperature-controlled bodywork. "Beyond any shadow of a doubt," says Child. "Against some of the German manufacturers, it could be 500kg lighter; while against the Daf it's between 300kg to 400kg." Blake echoes that sentiment: "If it's a payloaddriven requirement, then the Canter fills the gap exceptionally well. Because it's got such good payload and is relatively inexpensive, then it's seen as being an ideal tool for the job."
Child continues: "As 3.5-tonne vans have got heavier, people have been caught out and found they're overloading them easily. A 3.5-tonne panel van will only carry 1.5 tonne maximum in reality, so anyone who needs to carry more on a regular basis, especially in the food and drink sector, will struggle to achieve that on a van, so you can see that people will go to a 7.5-tonner."
Residential areas Last year, Daf was the top-selling 7.5-tonne manufacturer with almost 40% having registered 2,556 in 2012, up by an impressive 35.8% in 2011. For marketing director Tony Pain, the 7.5-tonner's enduring appeal looks set to remain thanks to town-planning regulations. "There are a surprising number of roads that have a 7.5-tonne weight limit on them, especially in residential areas," he says. "So for parcel carriers, or those delivering white goods or furniture, the benefits of a 7.5-tonner are obvious when you need to access urban streets. What's more, the cab-width on most 7.5-tonners is about the same as a big Transit — it doesn't need to be any wider." Child concurs: "Accessibility and driveability are big issues for local delivery and multidrop operators, and many are reticent to take on physically larger vehicles."
Interestingly, while Pain says reports of the 7.5-tonner's demise are "premature", he believes new regulations, implemented post-1997, including road speed limiters and digital tachos, plus the extra weight of emission controls systems (with more to come), have all added to its cost-base, prompting operators to consider moving up the weight range to 11 to 15 tonnes. "Of those, the biggest effect has been road speed limiters, although, ironically, the resulting improvement in fuel consumption has proved dramatic," says Pain, who predicts that 7.5-tonners will come under more pressure with Euro-6. "It won't help it because of the chassis price consequences."
However, while there has undoubtedly been an upward movement towards 11to 15-tonne trucks, not least by European truck buyers where the relatively heavy kerb weight of a 7.5-tonner is less of an issue when plated at higher weights, Iveco says "it's still small numbers".
"Will it see bigger volumes? It's unlikely," adds the Italian truck maker.
Based on his analysis of historic SMMT data, veteran market-watcher Peter Symons of ICE Marketing believes that over the past 30 years there's been a far more significant shift weight-wise. "In 1981, tractors represented 23% of all new registrations. By 2011 that had increased to 50.3%," he says. He adds that despite last year's growth in 7.5-tonne registrations, the latest registration figures further highlight the decline in the long term, not just of 7.5-tonners but of all middleweights up to and including 18-tonners, as hauliers use ever-larger vehicles to reduce what he calls their 'cost—per-drop'.
"It's a fundamental change — people are moving from 18-tonners to 6x2 rigids and even heavier vehicles, especially artics, for distribution," says Symons.
"I think that's inevitably the case," agrees Blake. "Undoubtedly you can see a polarisation of the market because it's more efficient to use a big truck to move things; and whereas we talk about regional distribution, a lot of regional distribution is now done with artics — it's a cost-effective means of moving goods."
So who among dedicated truck operators will be buying 7.5-tonners in the future? Blake says: "I think the rental companies are going to be key in it because the flexibility of the packages they offer is something that a lot of customers, particularly in these uncertain economic times, are keen to take advantage of. And rather than tie into a two-, threeor five-year deal, if you're not sure whether you're going to be in business, never mind what your needs will be, the temptation is to take something on a relatively short hire — whether contract hire or spot rental."
Customer loyalty Child also predicts that operators who have been able to put off replacing their 7.5-tonners will soon have to return to the marketplace. "We have no doubt the market will increase as old vehicles that haven't been replaced during the recession have peaked as an asset.
"Although we don't believe the market will ever return to the giddy heights of 13,000-plus recorded in 2004, we expect it to stabilise at up to 9,000 units a year when the recession ends. The customers that will remain loyal to this weight category will always be on a local delivery or multidrop type of operation."
Ironically, 7.5-tonne registrations increased by 24% last year, but the long-term picture remains one of contraction. And although observers have been keen to blame it on driving licence changes, the 7.5-tonner's fate was probably settled long before 1997— by operators, not legislators. It's that shift to higher GCWs, more than anything else, that's been key to the demise of the once-mighty 7.5-tonner sector. And despite the impressive in-roads made by Japanese manufacturers, who've seen their volumes increase in a shrinking market, the previous glory days for 7.5-tonners are over. It only leaves the pundits to say, 'we told you so'. •