A Suffolk haulier is hoping the purchase of a new
31st january 2013
Page 20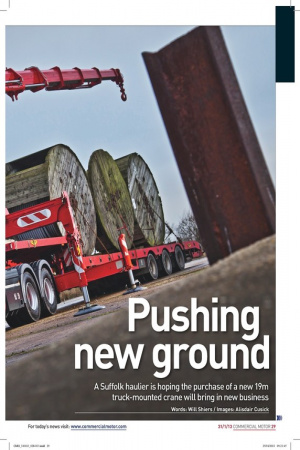 Page 21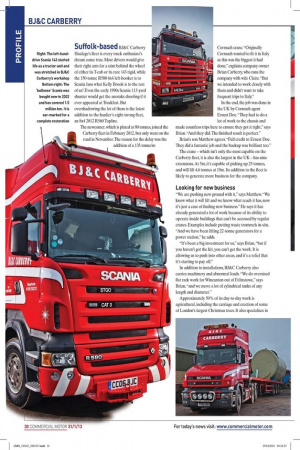 Page 23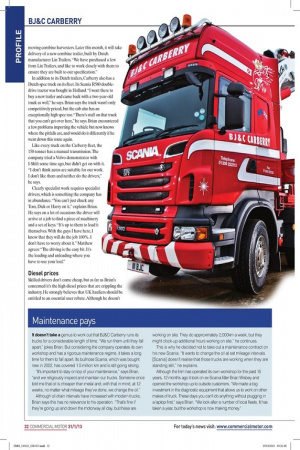 Page 24
Page 22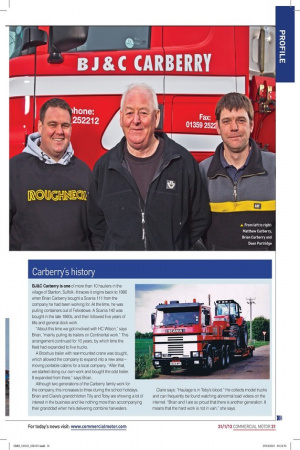 Page 20, 31st january 2013 —
A Suffolk haulier is hoping the purchase of a new
Close
A Suffolk haulier is hoping the purchase of a new 19m truck-mounted crane will bring in new business Words: Will Shiers / Images: Alisdair Cusick Haulage's fleet is every truck enthusiast's dream come true. Most drivers would give their right arm for a stint behind the wheel of either its T-cab or its rare 143 rigid, while the 150-tonne R580 6x4 left-hooker is to Scania fans what Kelly Brook is to the rest of us! Even the early 1990s Scania 113-yard shunter would get the anoraks drooling if it ever appeared at Truckfest. But overshadowing the lot of them is the latest addition to the haulier's eight-strong fleet, an 8x4 2012 R560 Topline.
The newcomer, which is plated at 80 tonnes, joined the Carberry fleet in February 2012, but only went on the road in November. The reason for the delay was the addition of a 135-tonne/m Suffolk-based BJ&C Carberry Cormach crane. "Originally Cormach wanted to fit it in Italy as this was the biggest it had done," explains company owner Brian Carberry, who runs the company with wife Claire. "But we intended to work closely with them and didn't want to take frequent trips to Italy."
In the end, the job was done in the UK by Cormach agent Ernest Doe. "They had to do a lot of work to the chassis and made countless trips here to ensure they got it right," says Brian. "And they did. The finished result is perfect."
Brian's son Matthew agrees. "Full credit to Ernest Doe. They did a fantastic job and the backup was brilliant too."
The crane — which isn't only the most capable on the Carberry fleet, it is also the largest in the UK — has nine extensions. At 5m, it's capable of picking up 25 tonnes, and will lift 4.6 tonnes at 19m. Its addition to the fleet is likely to generate more business for the company.
Looking for new business "We are pushing new ground with it," says Matthew. "We know what it will lift and we know what reach it has, now it's just a case of finding new business." He says it has already generated a lot of work because of its ability to operate inside buildings that can't be accessed by regular cranes. Examples include putting waste trommels in-situ. "And we have been lifting 22-tonne generators for a power station," he adds.
"It's been a big investment for us," says Brian, "but if you haven't got the kit, you can't get the work. It is allowing us to push into other areas, and it's a relief that it's starting to pay off."
In addition to installations, BJ&C Carberry also carries machinery and abnormal loads. "We do oversized flat rack work for Wincanton out of Felixstowe," says Brian, "and we move a lot of cylindrical tanks of any length and diameter."
Approximately 50% of its day-to-day work is agricultural, including the carriage and erection of some of London's largest Christmas trees. It also specialises in moving combine harvesters. Later this month, it will take delivery of a new combine trailer, built by Dutch manufacturer Lin Trailers. "We have purchased a few from Lin Trailers, and like to work closely with them to ensure they are built to our specification."
In addition to its Dutch trailers, Carberry also has a Dutch-spec truck on its fleet. Its Scania R580 doubledrive tractor was bought in Holland. "I went there to buy a new trailer and came back with a two-year-old truck as well," he says. Brian says the truck wasn't only competitively priced, but the cab also has an exceptionally high spec too. "There's stuff on that truck that you can't get over here," he says. Brian encountered a few problems importing the vehicle but now knows where the pitfalls are, and would do it differently if he went down this route again.
Like every truck on the Carberry fleet, the 150-tonner has a manual transmission. The company tried a Volvo demonstrator with I-Shift some time ago, but didn't get on with it. "I don't think autos are suitable for our work. I don't like them and neither do the drivers," he says.
Clearly specialist work requires specialist drivers, which is something the company has in abundance. "You can't just chuck any Tom, Dick or Harry on it," explains Brian. He says on a lot of occasions the driver will arrive at a job to find a piece of machinery and a set of keys. "It's up to them to load it themselves. With the guys I have here, I know that they will do the job 100%. I don't have to worry about it." Matthew agrees: "The driving is the easy bit. It's the loading and unloading where you have to use your loaf."
Diesel prices Skilled drivers don't come cheap, but as far as Brian's concerned it's the high diesel prices that are crippling the industry. He strongly believes that UK hauliers should be entitled to an essential user rebate. Although he doesn't store fuel on-site, as the trucks can be out for up to 10 days at a time, Brian says he can buy fuel on the road just as cheaply and without the hassle of bunkering. Every Monday morning, daughter Gemma hits the phones, getting the best deal out of the six fuel providers the company uses. "They try to compete with each other, and we go with whichever is the cheapest that week," says Brian.
Although he sees Driver CPC as another unnecessary cost to the industry, 12 months ago he made the decision to embrace it.
"Everyone kept saying it's not going to happen and that France will boycott it, but there's no way it's going to get scrapped," he says.
"I decided that it was time that we got on with it. It cost us a lot of money, but it had to be done."
So far, all but one of the eight company drivers have completed the required 35 hours of training.
Although Brian acknowledges that it's tough for UK hauliers, he reports an increasing number of enquiries over the past six months for general haulage.
"We get a lot of calls about flats, as not many people run them any more. A lot of companies doing general work have packed up, while the others are into boxes and curtainsiders or are running skellies on dock work.
"I think this market will expand, and those who stick at it will come out on top," he says. • Carberry's history BJ&C Carberry is one of more than 10 hauliers in the village of Stanton, Suffolk. It traces it origins back to 1986 when Brian Carberry bought a Scania 111 from the company he had been working for. At the time, he was pulling containers out of Felixstowe. A Scania 142 was bought in the late 1980s, and then followed five years of tilts and general dock work.
"About this time we got involved with HC Wilson," says Brian, "mainly pulling its trailers on Continental work." This arrangement continued for 10 years, by which time the fleet had expanded to five trucks.
A Broshuis trailer with rear-mounted crane was bought, which allowed the company to expand into a new area — moving portable cabins for a local company. "After that, we started doing our own work and bought the odd trailer. It expanded from there," says Brian.
Although two generations of the Carberry family work for the company, this increases to three during the school holidays. Brian and Claire's grandchildren Tilly and Toby are showing a lot of interest in the business and like nothing more than accompanying their granddad when he's delivering combine harvesters.
Claire says: "Haulage is in Toby's blood." He collects model trucks and can frequently be found watching abnormal load videos on the internet. "Brian and I are so proud that there is another generation. It means that the hard work is not in vain," she says.
Maintenance pays It doesn't take a genius to work out that BJ&C Carberry runs its trucks for a considerable length of time. "We run them until they fall apart," jokes Brian. But considering the company operates its own workshop and has a rigorous maintenance regime, it takes a long time for them to fall apart. Its bullnose Scania, which was bought new in 2002, has covered 1.5 million km and is still going strong.
"It's important to stay on top of your maintenance," says Brian, "and we religiously inspect and maintain our trucks. Someone once told me that oil is cheaper than metal and, with that in mind, at 12 weeks, no matter what mileage they've done, we change the oil."
Although oil drain intervals have increased with modern trucks, Brian says this has no relevance to his operation. "That's fine if they're going up and down the motorway all day, but these are working on site. They do approximately 2,000km a week, but they might clock-up additional hours working on site," he continues.
This is why he decided not to take out a maintenance contract on his new Scania. "It wants to change the oil at set mileage intervals. [Scania] doesn't realise that those trucks are working when they are standing still," he explains.
Although the firm has operated its own workshop for the past 15 years, 12 months ago it took on ex-Scania fitter Brian Wisbey and opened the workshop up to outside customers. "We made a big investment in the diagnostic equipment that allows us to work on other makes of truck. These days you can't do anything without plugging in a laptop first," says Brian. "We look after a number of local fleets. It has taken a year, but the workshop is now making money."