Response alarm
31st january 2013
Page 15
Page 16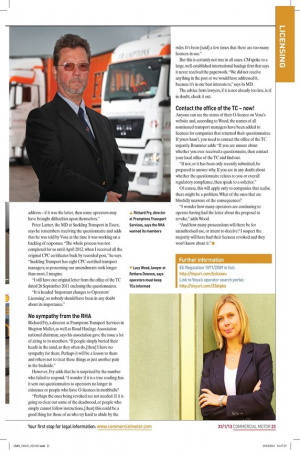 Page 15, 31st january 2013 —
Response alarm
Close
Hauliers and transport lawyers tell CM about the importance of returning their transport manager questionnaire woras: unris I inaatl Keeping on top of paperwork is an essential job for any freight transport operator, but one important form sent out more than a year ago appears to have been ignored by thousands of companies.
It was a questionnaire that required nominated transport managers to inform the Department for Transport (DfT) of whether or not they were to be classed as internal or external. Not only that, but the questions were also designed to enable the DfT to audit transport managers' competency.
In addition, the information was used to contribute towards a pan-European database of operators and transport managers.
All this was in response to European legislation — EU Regulation 1071/2009, now in place — which, among other things, limited the scope of transport managers nominated on more than one licence.
It followed long-held concerns by traffic commissioners (TCs) that many transport managers were failing to fulfil their duties, despite being named on several licences.
A total of 9% failed to respond However, it has now become clear that 3,506 standard national and international licence holders —9% of the total — failed to respond to the questionnaire and are in the process of having their licences revoked. In fact, in a Freedom of Information response, the office of the senior TC says 360 licences have already been revoked and more will follow.
"Twelve months on, and it seems that TCs are losing patience with operators and transport managers who have still not returned the mandatory questionnaires," says Andrew Brammer, transport lawyer at Cartwright King solicitors. "Non-compliance with what should be a relatively simple and well-publicised exercise will be a good indicator to a TC of more general problems in the operator's business."
Lucy Wood, a transport lawyer at Nottingham-based Rothera Dowson, says the numbers are not surprising as operators often fail to keep TCs up to date with changes to their correspondence address.
"It's common that you would move your correspondence address," she says. "The office of the TC has a lot of work to do; it hasn't got time to send it to every address belonging to the operator.
"I don't know what else it could have done. There was a set time scale, and you have a lot of operators; they have to keep the TCs informed."
Tim Ridyard, at Woodfines solicitors, says the questionnaire is "pretty fundamental", and adds: "I suspect that some operators failed to understand the importance of this, in some cases post may have gone astray or [the office of the TC] did not have an up-to-date address — if it was the latter, then some operators may have brought difficulties upon themselves."
Peter Lamer, the MD at Suckling Transport in Essex, says he remembers receiving the questionnaire and adds that he was told by Vosa at the time it was working on a backlog of responses. "The whole process was not completed for us until April 2012, when I received all the original CPC certificates back by recorded post," he says. "Suckling Transport has eight CPC-certified transport managers, so processing our amendments took longer than most, I imagine.
"I still have our original letter from the office of the TC dated 26 September 2011 enclosing the questionnaires "It is headed 'Important changes to Operators' Licensing', so nobody should have been in any doubt about its importance."
No sympathy from the RHA Richard Fry, a director at Framptons Transport Services in Shepton Mallet, as well as Road Haulage Association national chairman, says his association gave the issue a lot of airing to its members. "If people simply buried their heads in the sand, as they often do, [then] I have no sympathy for them. Perhaps it will be a lesson to them and others not to treat these things as just another pain in the backside."
However, Fry adds that he is surprised by the number who failed to respond. "I wonder if it is a true reading; has it sent out questionnaires to operators no longer in existence or people who have 0-licences in mothballs?
"Perhaps the ones being revoked are not needed. If it is going to clear out some of the deadwood, or people who simply cannot follow instructions, [then] this could be a good thing for those of us who try hard to abide by the rules. It's been [said] a few times that there are too many licences in use."
But this is certainly not true in all cases. CM spoke to a large, well-established international haulage firm that says it never received the paperwork. "We did not receive anything in the post or we would have addressed it, because it's in our best interests to," says its MD.
The advice from lawyers, if it is not already too late, is: if in doubt, check it out.
Contact the office of the TC - now!
Anyone can see the status of their 0-licence on Vosa's website and, according to Wood, the names of all nominated transport managers have been added to licences for companies that returned their questionnaires. If yours hasn't, you need to contact the office of the TC urgently. Brammer adds: "If you are unsure about whether you ever received a questionnaire, then contact your local office of the TC and find out.
"If not, or it has been only recently submitted, be prepared to answer why. If you are in any doubt about whether the questionnaire relates to you or overall regulatory compliance, then speak to a solicitor."
Of course, this will apply only to companies that realise there might be a problem. What of the ones that are blissfully unaware of the consequences?
"I wonder how many operators are continuing to operate having had the letter about the proposal to revoke," adds Wood.
"And how many prosecutions will there be for unauthorised use, or intent to deceive? I suspect the majority will have had their licences revoked and they won't know about it." • Further information IEU Regulation 1071/2009 in full: http://tinyurl.com/bckzaeu Link to Vosa's operator search portal: http://tinyurl.com/35dtpkx